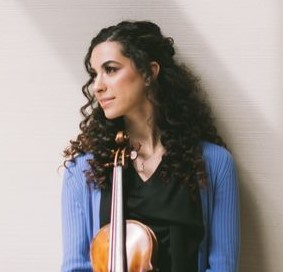 Alessia Disimino
violin (Chamber Music Institute '19)
---
What was a highlight of your time at TSM?
Toronto Summer Music was an incredibly enriching experience. I attended in 2019 with my piano trio, the Bedford Trio, as one of two chamber groups selected for the summer festival that year. Performing alongside and learning from such incredible mentors, and meeting the supportive and dedicated community made the experience so memorable. Meeting fellow colleagues and making new memories with new and old friends was another highlight of the festival!
What is a lesson you learned from your time at TSM?
At TSM, we were encouraged to develop our artistic voices and learn new skills of collaboration. I think the most valuable lesson I learned was how to successfully learn a piece in a short amount of time to prepare for a concert—a skill that we so need in the professional world!
What does your life and career look like these days?
I have been so grateful to continue doing much of what I love, even in the challenging pandemic times. As part of the 2020/2021 academic year, along with my colleagues Jialiang (piano) and Andrew (cello) in the Bedford Trio, I adjudicated the first ever piano trio composition competition at the University of Toronto and we will premiere the winning piece as part of the New Music Festival. We also performed virtually at several international events, including the season opening gala concert at the Tartini Conservatory in Trieste, Italy. I am just as passionate about teaching as I am about performing, so I've also dedicated much time developing my academy, the North York String Academy, over the past few years. I am so excited to launch our second-annual virtual Summer Camp this summer!
Do you have any advice for our future Fellows?
Soak it all in! This festival is so unique in its level of professional development, and provides such incredible opportunities to network with others. Come prepared, have fun, and enjoy it!
Learn more about the Community Program here.