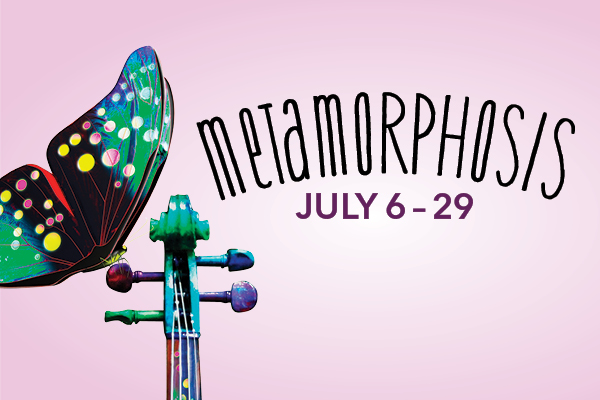 Welcome to the 2023 Festival entitled Metamorphosis; celebrating how the fascinating world of classical music has grown and transformed into the exciting musical moment in which we find ourselves.   
The theme of Metamorphosis is particularly apt. It represents the re-emergence after a transformative time; an era of new ideas built on the foundation of classical masterworks. This is an exciting juncture in classical music where we have top musicians inspiring us with their musical mastery alongside a new generation breaking the mold and boasting dizzying technical heights.
The 2023 season features a star-studded lineup and a host of musicians to whom I'm excited to introduce you. Opening night features two generations of artistic brilliance: renowned pianist Jon Kimura Parker and 2022 Honens Competition laureate Illia Ovcharenko. Angela Hewitt, much loved worldwide for her Bach interpretations performs in a solo recital at Koerner Hall. We have not one, but two superstar vocal recitals: Sondra Radvanovsky performing some of my favorite works by R. Strauss and Duparc; and Puerto Rican soprano Ana Maria Martinez joined by pianist Craig Terry in a much-anticipated evening. We're equally thrilled by our chamber music lineup: the Isidore Quartet, winners of the 2022 BISQ Competition; the celebrated Míro Quartet; and National Arts Centre-based Ironwood Quartet. Yura Lee, Kelly Hall-Tomkins, Juan-Miguel Hernandez, Michelle Cann, among many other brilliant musicians will join us for a selection of chamber masterworks. Payadora treats us to an evening of tango music, while the Bridge & Wolak duo stretch what a classical concert can be with their music and comedy. Amplified Opera's Butterfly Project by Teiya Kasahara 笠原貞野; works by Canadian composers including Kevin Lau and Dinuk Wijeratne; and by former TSM Academy Fellow Alice Hong showcase the not-to-be-missed brilliance of contemporary classical music. I'm thrilled to be returning to the stage with my dear friend Philip Chiu, and with the New Orford String Quartet. Of course, our popular series of Saturday ReGeneration concerts feature a talented group of TSM Academy Fellows– the rising stars of classical music– alongside my colleagues and me in performances of favorite art song and chamber music repertoire.
I look forward to seeing you this summer, 
Jonathan Crow 
Artistic Director