Festival Event
: Mainstage Concert
Tony Yike Yang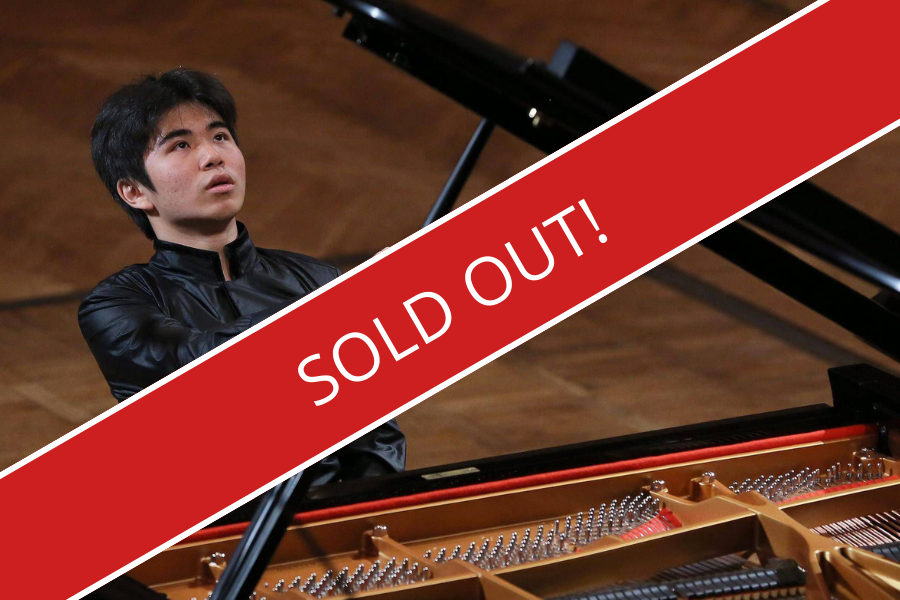 Chinese-Canadian pianist Tony Yike Yang is emerging as one of the foremost pianists of his generation. He makes his TSM debut in a monumental solo recital of Chopin, Liszt, Prokofiev, and more.
Tony Yike Yang, piano
Wolfgang Amadeus Mozart: Sonata No. 10 in C Major, K. 330
Maurice Ravel: Sonatine 
Sergei Prokofiev: Sonata No. 2 in D minor, Op. 14 
Franz Liszt: Ballade No. 2 in B minor, S. 171 
Frédéric Chopin: Ballade No. 3 in A-flat Major, Op. 47  
Frédéric Chopin: Scherzo No. 3 in C-sharp minor, Op. 39 
Frédéric Chopin: Scherzo No. 2 in B-flat minor, Op. 31  
Programme Notes 
 Wolfgang Amadeus Mozart (1756-1791) 
Mozart Piano Sonata No. 10 in C major, K. 330 
This sonata was composed in 1783 as the first of a set of three sonatas (K. 330, K. 331, and K. 332) and later published in Vienna in 1784.  
By 1781, the young twenty-five-year-old Mozart had grown tired of the limitations of working under the employ of the Prince-Archbishop Hieronymus Colloredo, the then-leader of the provincial town of Salzburg. Mozart feared his talents would be squandered if he remained in Salzburg, and his ambition led him to want to relocate to the metropolis of Vienna. However, when Mozart asked to be dismissed from Archbishop's Colloredo court, the former was so affronted by the request that he immediately refused the resignation. A couple of months later (and after many heated arguments), the Archbishop reluctantly allowed Mozart to leave his employ. However, to do so, Mozart would have to receive a literal "kick in the arse", which was to be administered by the Archbishop's steward, the Count Arco. After this rather unceremonious dismissal, the young Mozart, embarrassed and bruised, was finally free to pursue his dream of moving to Vienna. There, Mozart found great fame but little financial security. 
One reliable, albeit less-than-glamourous, source of income for the young composer was to give piano lessons to members of the Viennese aristocracy. The C major Sonata K. 330 (along with its two companion sonatas) are believed to have been composed in order to provide new material for his students to learn from. Pedagogical use aside, this sonata is a gem of the piano repertoire, full of luminous virtuosity and lyrical ingenuity.  
The first movement is delightfully gallant in style. An effervescent melody composed of scales, trills, and turns bursts forth from the keyboard like a warm ray of sunshine. One can imagine a dark cloud suddenly rolling in during the development section, with its harmonic ambiguity and chromatic shading. However, before long, the main melody returns and dispels any notion of glumness or sadness. 
The second movement is marked Andante cantabile, meaning it is to be played in a "singing" manner. Mozart was, above all, the most brilliant of operatic composers. One can easily imagine one of the heroines from his operas, like the love-scorned Countess Almaviva in Le Nozze di Figaro or the steadfast Fiordeligi in Cosi fan Tutte, singing this bittersweet melody. 
The final movement acts as a suitable palate cleanser after the pathos of the previous movement. A simple melody punctuated by brilliant figurations in the piano bring this sonata to a cheerful and pleasant end. 
Copyright © 2022 Stephane Mayer 
Maurice Ravel (1875-1937) 
Sonatine 
 Ravel, like Debussy, rejected the excesses of Romanticism by turning to the past. The genial Sonatine (1903-1905) points both to Classical form and the simpler textures of the eighteenth-century French school of clavecinists. Supple rhythm mingles with modal harmony, and in the finale, shimmering activity recalls the composer's Jeux d'eau (1901). 
 Copyright © 2019 Robert Rival. 
Robert Rival is a composer, music writer & teacher. Robertrival.com 
 Sergei Prokofiev (1891-1953) 
Sonata No. 2 in D minor, Op. 14 
A short and rather whimsical sonata composed in 1912, published in 1913, and dedicated to Maximilian Schmidthof, a friend from Prokofiev's conservatory days who had sadly committed suicide earlier that year. Prokofiev eschews overt romantic gestures in this work, opting for leaner themes and sparser textures. While his earlier sonata aimed at maintaining musical homogeny, this second sonata astounds with its wide variety of styles. Take the first movement for example. The movement opens with a rising melody which, not even 10 seconds after beginning, is interrupted by dissonant tone clusters which sound almost like demented circus music. The melody starts off tentatively again, but this time devolves into an almost mechanical ostinato passage that slowly tires itself out and makes way for some scalar, dreamlike meanderings. As soon as the listener gets used to one sonic world, Prokofiev turns everything on a dime and we are transported to another dimension entirely. Talk about unsettling! 
The second movement is a quick scherzo in ternary form. The main section and its later iteration, with its relentless rhythmic drive, are both dizzying and exhilarating. They flank a short middle section, a mechanical, yet graceful, little dance. 
The third movement evokes qualities of a skaska (Russian for "fairytale"). Prokofiev continues the grand Russian tradition of incorporating fairytale imagery in music which was set forth by his predecessors: Rimsky-Korsakov, Lyadov, and Medtner. Here, unlike the rest of the sonata, the musical focus is singular. A lyrical melody is allowed to evolve over an undulating accompaniment figure in the inner voices. This treatment of the material gives this movement an almost childlike simplicity while the underlying harmonies imbue the work with an eerie and enchanting aura.  
The final movement is as incongruous as the first. Themes emerge suddenly and just as quickly devolve into something else entirely. The first theme, with its jaunty and brilliant figuration, is reminiscent of an Italian tarantella (quite literally a "dance of spiders") while the second theme sounds like it belongs in a cabaret. A short, lyrical interlude then emerges from the previous theme before turning into a demonic can-can. The work continues in such sporadic fashion until it comes to a brilliant and virtuosic end. To say that this type of pastiche-like musical treatment baffled contemporary critics is an understatement. After a recital in New York in 1918, a certain writer opined that the finale of Prokofiev's second piano sonata reminded him of "a herd of mammoths charging across an Asiatic plateau". Oh my… 
Copyright © 2022 Stephane Mayer 
Franz Liszt (1811-1886) 
Ballade No. 2 in B minor, S. 171 
At Sestos Hero dwelt; Hero the fair,  
Whom young Apollo courted for her hair 
Amorous Leander, beautiful and young  
(Whose tragedy divine Musæus sung),  
Dwelt at Abydos; 
In these few verses, Christopher Marlowe introduces us to one of the greatest pairs of lovers from Greek mythology, Hero and Leander, whose tale, if we are to take the word of the famous 20th-century Chilean pianist Claudio Arrau (he himself a student of Liszt's pupil Martin Krause), is the supposed inspiration for Liszt's second Piano Ballade. 
The term ballade (the French spelling of the word ballad), prior to the 19th century, had seldom been used to describe a musical work. A ballad was a literary form, more specifically, a narrative poem. These ballads were popularized by respected figures such as Burns and Scott in Scotland, Wordsworth and Coleridge in England, and Goethe and Schiller in Germany. They were essentially short stories told in verse and emulating older folk styles, very much in the spirit of traditional fairy tales. They often recounted stories of star-crossed lovers, of supernatural beings, or of tragic war battles. They were written in a straight-forward fashion which relied heavily on repetition, which, in turn, gave them a very "sing-song" quality. It is no surprise then that, by the mid-19th century, composers, inspired by these literary ballads, had begun using this term to describe their own compositions. Chopin was the first to do so when he published his Ballade No. 1 in G minor, Op. 23 in 1835. 
When Liszt composed his second Ballade in 1853, the musical form had already developed its own distinct characteristics. Much like the literary works from which they evolved, solo piano ballads sought to tell epic stories, albeit now through purely musical means. As such, a simple melody could now come to represent a certain character while textures in the accompaniment figures could be used to conjure up images proper to the setting of the story. Musical refrains are also prevalent and serve as important anchor points within the work, while rhapsodic, and often virtuosic, episodes propel the drama forward. 
While Liszt never explicitly divulged what inspired him to compose his second Ballade, a good case can be made to show that the tale of Hero and Leander was indeed the basis for this work. The tale goes as such:  
Hero, a priestess of Aphrodite the goddess of love, lives in a tower in Sestos, while Leander, a handsome young man, lives in the city of Abydos. The Hellespont, a narrow body of water, divides the two cities. One day, while visiting Sestos during an important festival, Leander meets Hero and they fall passionately in love with each other. Leander swears to visit Hero every night by swimming across the Hellespont and Hero promises to guide him to her by lighting a candle in the window of her tower. Leander successfully swims to his lover Hero on numerous occasions. However, on one stormy night, Hero's light was extinguished and, as a result, Leander was drowned. When Hero learns of this, she throws herself out of the tower and drowns in the waters below. Their bodies eventually wash up on shore together, intertwined in a lover's embrace. 
The opening of the Ballade, with its low rumbling flurry of notes, represents the tempestuous sea. A sweet melody soon arises from the texture and we can envision Hero welcoming her beloved Leander into her embrace. The sea surges again and again, and each time Hero sings to her beloved. However, the notes in the piano become wilder as the sea becomes even more violent. We can picture Leander trying to stay afloat until he finally succumbs to fatigue and drowns. Hero keeps singing her beautiful song, trying to summon her lover across the Hellespont. However, she soon realizes that she is singing in vain, and, with a series of virtuosic gestures at the piano, we hear her throw herself off the tower. The piece concludes with one last repetition of Hero's song, a final ecstatic refrain representing the lovers' eternal reunion in the afterlife. 
Copyright © 2022 Stephane Mayer 
Frédéric Chopin (1810-1849) 
Ballade No. 3 in A-flat Major, Op. 47 
Scherzo No. 3 in C-sharp minor, Op. 39 
Scherzo No. 2 in B-flat minor, Op. 31 
Attacked by Sweden and Russia in the eighteenth century, Poland ceded parts of its territory, beginning in 1772, until the little that remained in 1795 was divided among Russia, Prussia, and Austria. Poles thus suffered foreign domination throughout the nineteenth century, not achieving independence until 1918. Before Chopin, most Polish composers wrote in the Classical style. Though Chopin left his homeland in late 1830, never to return, from his new base in Paris he turned Polish music into something of an international sensation with piano miniatures inspired by Polish folk dances (polonaises, mazurkas, and krakowiaks).  
In 1831, Schumann welcomed Chopin into the ranks of the greats when he famously exclaimed, "Hats off, gentlemen, a genius!" But Schumann, not just moved by the Pole's brilliant virtuosity and melodic charms, was also sensitive to the music's political underpinnings. "If the mighty autocrat of the North knew what a dangerous enemy threatened him in Chopin's works," he wrote in a veiled reference to Russia's suppression of a Polish rebellion that year, "he would forbid this music. Chopin's works are guns buried in flowers." 
Among Chopin's many character pieces, the ballades are the most ambitious in scope and sophisticated in structure. Not quite sonata form, not quite rondo form, they draw on elements of both, with an admixture of variation, to forge a compelling drama between contrasting themes. No. 3 (1841) juxtaposes a lazy principal theme with a lilting secondary one, eventually snowballing into a passionate outpouring that several contemporary writers interpreted as a portrait of the Polish pilgrim after the November Uprising (1830-31). Schumann even claimed the piece was based on poems by nationalist poet Adam Mickiewicz. Indeed, the ballades' moments of calm seem always destined to be overwhelmed by volcanic surges. Though Chopin left no programmes, these qualities, the ballades' open-ended structures, and the mythology surrounding the composer, have always invited narrative interpretation. As musicologist Jeffrey Kallberg observes, "To hear Chopin, it appears, is in some sense to 'hear Poland'."  
Chopin marked his four large-scale scherzos Presto, adding con fuoco to No. 1 and No. 3 (1839) to emphasize their volatility. "No hesitating, morbid view of life," writes Huneker memorably about the latter, "but rank, harsh assertiveness, not untinged with splenetic anger." As Charles Rosen notes, for the Romantics, a tonic was often thought to encompass both its parallel and relative modes. And, so it is in Chopin's Scherzo No. 2 (1837), which ends in D-flat major. One of Chopin's pupils, Wilhelm von Lenz, reported that few could play the suspenseful opening gesture to the composer's satisfaction. "It must be a question," said Chopin. "That's the key to the whole piece." A question, it turns out, that receives a dramatic foot-stomping answer. There follows a lyrical melody—in the style of Italian song, as Chopin himself noted—accompanied by a burbling brook in the left hand. A calm, hymn-like inner section in A major offers breadth and warmth. The tumultuous development section leads to a restatement of the opening question and answer, the latter now punctuated by an exclamation point in the form of a vigorous coda.  
Copyright © 2016-2020 Robert Rival.