Festival Event
: Mainstage Concert
Nosky & Bagan: Baroque Splendour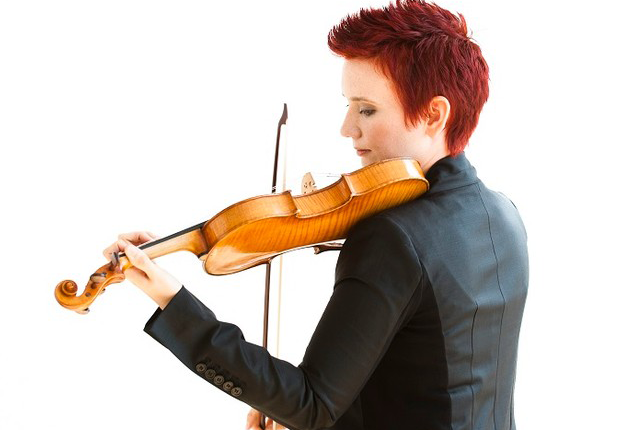 Aisslinn Nosky, who enthralls audiences around the world with her striking interpretations and impeccable technique, is joined in a concert of Baroque gems by harpsichordist Christopher Bagan.
Aisslinn Nosky, violin
Christopher Bagan, harpsichord.
Cullen O'Neal, cello 
Handel: Violin Sonata in D Major, HWV 371
Vivaldi: Violin Sonata Op. 2, No. 3 
Joseph-Nicolas-Pancrace-Royer: La Marche des Scythes 
Telemann: Fantasia No. 7 in E-flat Major, TWV 40:20
Schmelzer: Sonata Quarta in D Major
J.S. Bach: Violin Sonata in G Major, BWV 1021
Elisabeth Jacquet de la Guerre: Violin Sonata No. 1 in D minor
Corelli: Violin Sonata in D minor, Op.5, No.12 'La Folia'
Aisslinn Nosky's performance is generously supported by Dr. Jim Fleck & Georgina Steinsky.
Programme Notes 
Violin Sonata in D Major, HWV 371 (George Frideric Handel, 1685-1759), 1750 
I Afetuoso 
II Allegro 
III Larghetto 
IV Allegro 
To open this evening's concert, we have chosen the last and certainly one of the best-known pieces of chamber music by Handel, the "Great D Major" Sonata, HWV 371, for violin and basso continuo. While not published during his lifetime, shortly after his death it gained a wide circulation through pirated publications including numerous falsified title pages with incorrect attributions. Nevertheless, a manuscript dated to around 1750 confirms the piece as genuine Handel, which makes it the latest piece on our program with the Schmelzer sonata that closes the first half the earliest (1664). The formal plan follows a refined use of the four-movement sonata da chiesa structure (slow-fast-slow-fast), opening with a searching Afetuoso, followed by an imitative Allegro, turning to the key of B minor for the contemplative Larghetto before concluding with a final jocular Allegro. 
Violin Sonata in D minor Op. 2, No. 3 (Antonio Vivaldi, 1678-1741), 1709 
I Preludio Andante 
II Corrente Allegro 
III Adagio 
IV Giga Allegro 
Vivaldi's Opus 2 sonatas for Violin and Basso Continuo represent his first exploration of this genre, coming several years after his Op. 1 trio sonatas, and preceding the famous Op. 3 L'estro armonico concerti. These early collections demonstrated Vivaldi's mastery of each form in turn, cementing his position as he continued to refine his craft. The violin sonatas owe much to Corelli's Op. 5 sonatas, published 9 years earlier in 1700, as a model. They share with the Corelli the sonata da camera (chamber sonata) formal plan, beginning with a preludio movement and then including several dance movements, galanteries and contrapuntal movements with contrasting tempi. These pieces were heavily advertised by Vivaldi's publisher, prior even to their composition, as duos for violin and cello without a chordal instrument such as the harpsichord. This was likely to capitalize on the contemporary popularity of the violoncello which was quickly replacing the bass viol as a preferred solo bass string instrument. Despite the extant promotional material, when Vivaldi set to work at writing the works, he opted in the end for the more traditional employment of harpsichord and cello together realizing the basso part with the solo violin alone on the top part. Nevertheless, features of a partially conceived duo sonata structure remain throughout with highly involved and soloistic lines as well as wide-leaping implied counterpoint retained in the basso part. 
La Marche des Scythes (Joseph-Nicolas-Pancrace Royer, 1703-1755), 1746 
Royer was one of the true virtuosi of the harpsichord. While in his lifetime he was known more for his operas and high-profile employment with king Louis XV of France, his 1746 collection of pièces de clavecin shows an astonishingly gifted keyboard composer with a flair for dynamic and textural contrast, melodic and harmonic imagination, and technical ingenuity. The final piece of the set, La Marche des Scythes is given the intriguing tempo marking fièrement (proudly) and is structured as a rondeau where a recurring refrain bookends the piece and alternates with contrasting couplets. The piece makes a stunning variety of technical demands on the player with even the rondeau theme itself rife with relentless ornamentation, providing an insistent character with a hint of an impetuous snarl. The successive couplets make use of a dizzying array of scales, arpeggios, trills, hand-crossing and other idiomatic devices. Throughout, there are hints at humour and irony, despite the overall serious character, which add significantly to the piece's charm. 
Fantasie for Solo Violin in E-flat Major, No. 7, TWV 40:20 (Georg Philipp Telemann, 1681-1767), 1735 
I Dolce 
II Allegro 
III Largo 
IV Presto 
Telemann composed his 12 fantasias for unaccompanied violin in a very close timeframe along with 12 similar pieces for flute and another 12 for viola da gamba. All three sets were evidently very well received in their publication and had wide-ranging appeal for their musical style and relatively modest technical demands on the performer. Given the few examples in the genre of works for unaccompanied violin, immediate comparison with the Bach unaccompanied Sonatas and Partitas is tempting. However, this would be a disservice to both as they appear to have had no direct influence or comparative basis apart from their instrumentation. While the first six of Telemann's fantasias creatively use the solo violin to evoke typical Baroque textures such as the trio sonata and concerto, the remaining six pieces (this piece is number 7 in the set) are much more inherently and idiomatically violinistic in their overall approach. They have all the hallmarks of pieces for violin and continuo, but with the violin employed to provide its own bass part through frequent reaches down to its low register. 
Sonata Quarta in D Major (Johann Heinrich Schmelzer, c.1620-1680), 1664 
Schmelzer was an Austrian composer and violinist whose collection Sonatae unarum fidium was the first collection of sonatas by a German speaking composer to be published. We present the fourth sonata from this collection this evening, a sprawling work almost entirely based on a ubiquitous four-note repeated descending bass line alternatively called a Passacaglia, or Chaconne depending on the source. While sonatas of this period were generally presented as a single 'movement' there were often distinct sections, marked off by cadences and contrasting tempo markings. Later in the Baroque era these sections would coalesce into separate movements with internal key relationships and defined formal structures. Foreshadowing this, Schmelzer includes dance titles that one would expect to see in a sonata or suite such as a Sarabande and Gigue to several sections of the piece. 
Violin Sonata in G Major, BWV 1021 (Johann Sebastian Bach, 1685-1750), 1732-5 
I Adagio 
II Vivace 
III Largo 
IV Presto 
What appears to be a fairly conventional sonata da chiesa on first glance betrays several interesting details on closer investigation. One of the most striking features as a player is the sophisticated and highly prescriptive use of figured bass. Throughout, the figures could have been given a much simpler treatment and still adequately described and summarized the harmonic content enough to provide accompaniment. Bach however isn't satisfied with such an approach and as such, the figured bass contains additional contrapuntal cues, layers of dissonance treatment as well as figures of thematic interest that would not have been self-evident from the bass and upper parts alone. A point of contrast would be the incomplete and often haphazard figures provided by Handel in the sonata that opened our program. In this way, the figures almost approach an intabulation, whereby accompaniment parts were written out in a nearly complete fashion in pseudo-notation, rather than given over to the performer for improvised realization. Only the first movement is in a binary form, with two repeated sections equal in length, with the remaining movements structured in concise self-contained forms. While not marked as dances, features of the Allemande and Corrente characterize the first two movements. The third movement is structured as an aria and the final Presto is set out as an alla breve fugue which, while only strictly in two voices, with the inclusion of multiple stops in the violin part and the elaborate figured bass, gives the impression of a much more contrapuntally involved piece. 
Violin Sonata No. 1 in D minor (Élisabeth Jacquet de la Guerre, 1665-1729), 1707 
I Adagio 
II Presto 
III Aria 
IV Presto 
Élisabeth Claude Jacquet de La Guerre was a young keyboard virtuosa that caught the attention of Louis XIV at the age of five, gaining patronage and becoming a court musician shortly thereafter and remaining in his employment for much of her life. Despite the four-movement selection presented this evening for time constraints, de la Guerre's concept of the sonata structure was larger in scope than that of many of her contemporaries with the complete sonata stretching over 8 movements. Remarkable features of her writing include a rich and distinctive harmonic language, varied and prescribed textural changes within the piece, giving the accompanying viola da gamba an independent and soloistic role from the fundamental bass for several sections, and even giving an entire optional adagio movement over to the gamba instead of the violin, if desired. 
Variations on "Follia," Op. 5, No. 12 (Arcangelo Corelli, 1653-1713), 1700 
Originally a dance of Portuguese origin, the 'Follia' over time coalesced into a consistent harmonic framework for improvisation and composition of variations. Over 150 pieces based on this progression of harmonies are known to us, and probably the most famous of these is Corelli's set of 23 variations which close his Op. 5 violin sonatas. That Corelli's treatment of the Follia theme can be thought of as representative can be seen in the (mis)attribution of Sergei Rachmaninov of his Variations on a theme of Corelli, Op. 42 where only the secondary source of the material is mentioned. Throughout Corelli's variations both the violin and continuo are given turns to shine with virtuosic flair and the succession of different affects, meter, and tempi as the piece progresses give an astonishingly cohesive and dramatic structure to the whole. 
Copyright © 2022 Christopher Bagan