Festival Event
: Mainstage Concert
New Orford String Quartet: The Americas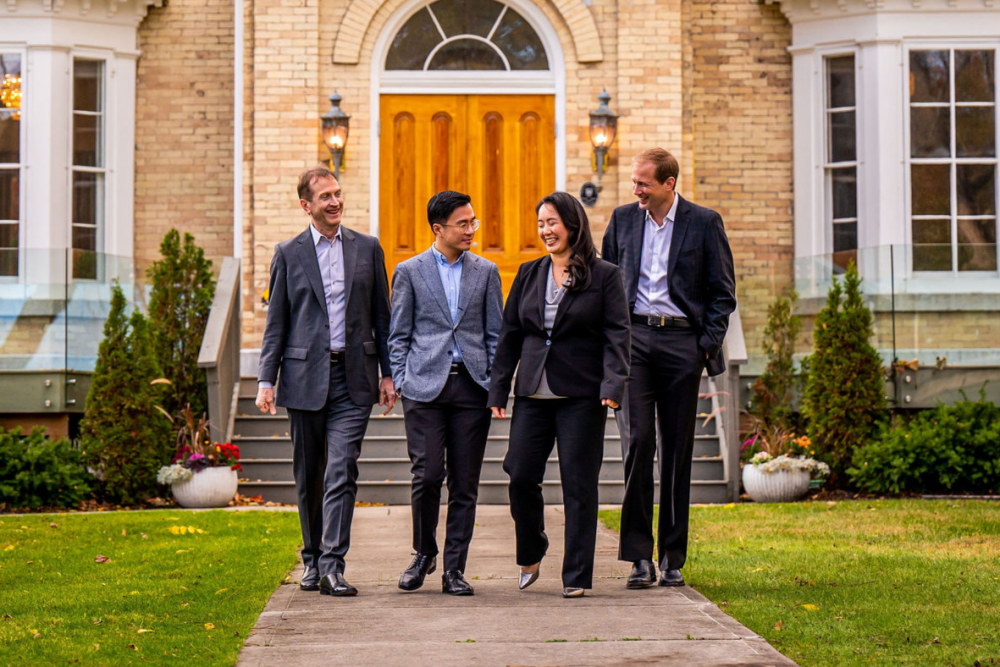 Weaving together music and words from Argentina, the United States, and northern and eastern Canada, this program presents a banquet of fascinating compositions, old and new.
Jonathan Crow, violin
Andrew Wan, violin
Sharon Wei, viola
Brian Manker, cello
Marion Newman, mezzo-soprano
Philip Chiu, piano
Astor Piazzolla: Tango Ballet for String Quartet (arr. José Bragato)
Jessie Montgomery: Strum
Carmen Braden: The Raven Conspiracy
Ian Cusson: Five Songs on Poems of Marilyn Dumont
Antonín Dvořák: String Quartet in F Major, Op. 96 "American" 
Marion Newman's performance is generously supported by Jonathan Crow & Molly Read. 
Programme Notes 
This concert presents one sonic story of the Americas: one among virtually infinite possibilities. The Americas—North, Central, South—are, after all, imaginary, a mélange of invisible borders and shifting, jumbled national identities arising from a history of departures and arrivals, both forcible and voluntary. Despite being focused on the Americas, in a concert like this European traditions and settler-colonial endeavours are always implicitly present, and indeed also capable of becoming even more pronounced through absence or denial. In this case you are encouraged to attend as much to silence as to what is expressed musically. What do the Americas sound like? Who gets to decide? And what might all kinds of American voices have to say? 
Copyright © 2022 Sadie Menicanin 
Astor Piazzolla (1921-1992) 
Tango Ballet (1956)  
Astor Piazzolla, an innovative twentieth-century Argentinian musician, is best known for his "tango nuevo," or "new tango." A composer of more than 3000 works, Piazzolla was also a famed bandleader, arranger, and instrumentalist. Jazz elements, chromaticism and dissonance, fugal writing, and non-traditional instrumentation are all woven into Piazzolla's decidedly untraditional approach to tango.  
A popular genre combining dance, music, poetry, and narrative, tango draws together a wide range of influences which speak to the high immigration rates to Argentina between c. 1830 and 1930, second only to the United States over the same period. Tango has thus been described as capturing an Argentinian ideal of cultural diversity and integration; however, the genre is also partly indebted to the "candombe," a Uruguayan music and dance style that was practiced by descendants of formerly enslaved Africans. The spectre of the trans-Atlantic slave trade thus lingers in the midst of tango's lively sensuality.  
Although now widely regarded as the national music of Argentina, the tango did not immediately take hold in the country beyond its original context in lower-class Buenos Aires communities. Rather, in the years before World War I, an exoticizing tangomanía swept through elite circles in European cities like Paris, Berlin, London, and Rome, as well as New York; the dance style's close embrace was regarded as scandalous and sexy. Only after its European legitimation (and partial tempering of its perceived lasciviousness) and with the outbreak of World War I, which forced the return of many Hispano-Americans to South America from Europe, did upper-class Buenos Aires residents adopt the newly stylish tango. In the late 1940s to mid-1950s, during the totalitarian presidency of Juan Domingo Perón—husband of the much-beloved Eva "Evita" Perón—the tango became wrapped up in the government's populist cultural agenda. Piazzolla, a staunch anti-Peronist and controversial musical tastemaker, was forced to carefully navigate his way through this complex political and artistic scene in his compositions and bandleading practices in the 1940s and 1950s. 
Piazzolla's Tango Ballet for string quartet exemplifies his fresh take on tango. The cosmopolitan Piazzolla composed it in the mid-1950s after a period studying in Paris with the famed pedagogue Nadia Boulanger, who also taught Aaron Copland and Igor Stravinsky. In the work you will find classical impulses juxtaposed with jazz gestures and tango rhythms. The title is curious, gesturing to Piazzolla's unique collision of bourgeois artistic sensibilities with popular national traditions; his Tango Ballet is not a work to be danced to, whether by couples in dance establishments or by a corps de ballet on a stage. Instead, the work showcases the flexibility of the string quartet in lending sonic expression to a new, internationally minded Argentinian musical vision. 
Copyright © 2022 Sadie Menicanin 
Jessie Montgomery (b. 1981) 
Strum: For string quartet 
Strum is the culminating result of several versions of a string quintet I wrote in 2006. It was originally written for the Providence String Quartet and guests of Community MusicWorks Players, then arranged for string quartet in 2008 with several small revisions. In 2012 the piece underwent its final revisions with a rewrite of both the introduction and ending for the Catalyst String Quartet in a performance celebrating the 15th annual Sphinx Competition.  
Originally conceived for the formation of a cello quintet, the voicing is often spread wide over the ensemble, giving the music an expansive quality of sound. Within Strum I utilized texture motives, layers of rhythmic or harmonic ostinati that string together to form a bed of sound for melodies to weave in and out. The strumming pizzicato serves as a texture motive and the primary driving rhythmic underpinning of the piece. Drawing on American folk idioms and the spirit of dance and movement, the piece has a kind of narrative that begins with fleeting nostalgia and transforms into ecstatic celebration. 
Copyright © 2012 Jessie Montgomery 
Carmen Braden (b. 1985) 
The Raven Conspiracy: For string quartet 
Program Notes: 
A group of ravens is called a 'conspiracy' – a fitting name for these intelligent, beautiful, and sonically fascinating beings. Ravens hold huge mystery and fascination for me. In The Raven Conspiracy for string quartet, I explore themes sourced from ravens, each of which became a movement of the piece.  
Sticks and Bones is a musical form of a creation myth – where did the ravens come from? A nest, deep in the earth made of sticks and bones, and as the ravens cracked out of their shells and clawed their way to the surface their feathers were singed and burned to a shiny black. 
Waltz of wing and claw reflects the ravens' aerial dance when they swoop and dive, rise and hang suspended, all in a mesmerizing shaded synchronicity. 
Something Shiny is a movement that evokes the ravens' playfulness, mischief, jaunty stride, and jangling song. 
The Raven Conspiracy was written for the Penderecki Quartet, and was supported by the Northern Arts and Cultural Centre's Mentorship Program. The Penderecki Quartet premiered the work during their NWT tour in September 2013. Thanks to the Quartet, to NACC, and also to Canadian North for allowing me to attend the premiere. 
Copyright © 2013 Carmen Braden
 
Ian Cusson (b. 1981) 
Five Songs on Poems of Marilyn Dumont 
Five Songs on Poems of Marilyn Dumont is a song cycle written in 2017 to poems from Dumont's 1996 collection, A Really Good Brown Girl. The opening song, A Letter to Sir John A. Macdonald is a scathing 'Dear John' letter to Canada's first Prime Minister whose government was responsible for the architecture and adoption of the Indian Act, which gave exclusive jurisdiction over "Indians" and their lands to the newly formed federal government. The song moves train-like through the effects of the construction of a transcontinental railway across Indigenous lands. The Red and White is a meditation on a Métis mother's attempt to make her children 'respectable' in a society that defines respectability by redness and whiteness, exemplified in the national emblem, the Canadian flag. Helen Betty Osborne shows the narrator as they attempt to write words about the iconic Osborne, an ambitious woman murdered in her teens by a group of men whose crime went unprosecuted for years. She becomes a symbol for Indigenous women – strong, resilient, empowered, yet at the mercy of a society that sees them as sub-human. Half-Human/Half Devil (Halfbreed) Muse is a litany of sounds, smells, textures, gestures – symbols of inspiration and life so often demonized and reduced to objects of savagery. The final work in the cycle, The Devil's Language, invites us to reconsider the hegemony of language. If the King's English is a standard, why is it not also the case with the 'Chief's Cree'? And how is it that the lost sounds of a language that a mother whispered into a child's ear as she cradled them in her arms, a language forcibly removed from a people, synonymous with the devil's language? What is left when language is removed from a people and all that remains are "syllables that echo in your mind… now that you can't make the sound of that voice that rocks you and sings you to sleep in the devil's language"? 
Copyright © 2022 Ian Cusson 
Antonín Dvořák (1841-1904) 
String Quintet in E-flat major, Op. 97, B. 180, "American" 
 Allegro non tanto 
Allegro vivo 
Larghetto 
Finale. Allegro giusto 
 In 1891, Dvořák, whose music had been long admired in the USA, was invited to lead New York's National Conservatory of Music of America. Its founder hoped that the composer would do for American concert music what he had already done for Czech music: help forge a national style. Despite initial reluctance to leave his homeland and the attendant difficulties in relocating a large family, a salary 25 times what he earned at the Prague Conservatory and the promise of new musical horizons persuaded him to accept the offer. In his first year he taught, was hounded by zealous reporters—and composed. From January to May 1893 he completed the symphony "From the New World", a work inspired by the folklore of blacks and Native Americans that cemented his international reputation.     
Contemplating a return to Bohemia for the summer, he opted instead to spend it—with six children in tow—in the idyllic Czech community of Spillville, Iowa, a 2,000 km journey by train from New York. The rural setting and the companionship of fellow Czechs pleased him immensely. He would rise at four o'clock, walk to the stream, work for two hours at five, play the organ for the morning mass at seven, then walk and work some more. He spent his afternoons chatting with the older settlers, eager to learn about their early hardships building the railway in America. He left Spillville three months later, refreshed, with a string quartet and string quintet in his briefcase, both later dubbed "American". "I should never have written these works 'just so' if I hadn't seen America," he wrote about the experience. 
The quartet came first—sketched in just three days, scored in another two weeks. Next, the quintet (with two violas), begun three days later and completed in a month. "I am composing now, thank goodness, only for my pleasure," he wrote to his publisher days before finishing the quintet. "I am fairly independent, have a salary of 15,000 dollars (or 60.000 M)—and so am able to devote my leisure to composing and am content." And as with the quartet, contentment pervades the quintet. 
Dvořák's secretary notated a pentatonic melody he heard local Native Americans perform on a visit to town. It bears a strong resemblance to the lyrical secondary theme in the Allegro non tanto, enlivened with dotted rhythms that thread the movement's rhythmic fabric. If the opener is good-natured, the scherzo that follows, Allegro vivo, is positively carefree, the trio's heart-tugging melody in the first viola notwithstanding. As in the quartet, the slow movement, Larghetto, occupies the centre of gravity, here a contemplative theme elaborated in five variations that, like Mozart's, focus on melody and ornamentation, the latter increasingly becoming restless, culminating in the rustling tremolos of the fourth variation. Jovial dotted rhythms return in the rondo finale (Allegro giusto); most memorable, however, are the songful outpourings in imitative counterpoint. 
 Copyright © 2015 Robert Rival 
Robert Rival is a composer, music writer & teacher. robertrival.com