Festival Event
: Mainstage Concert
Inspirations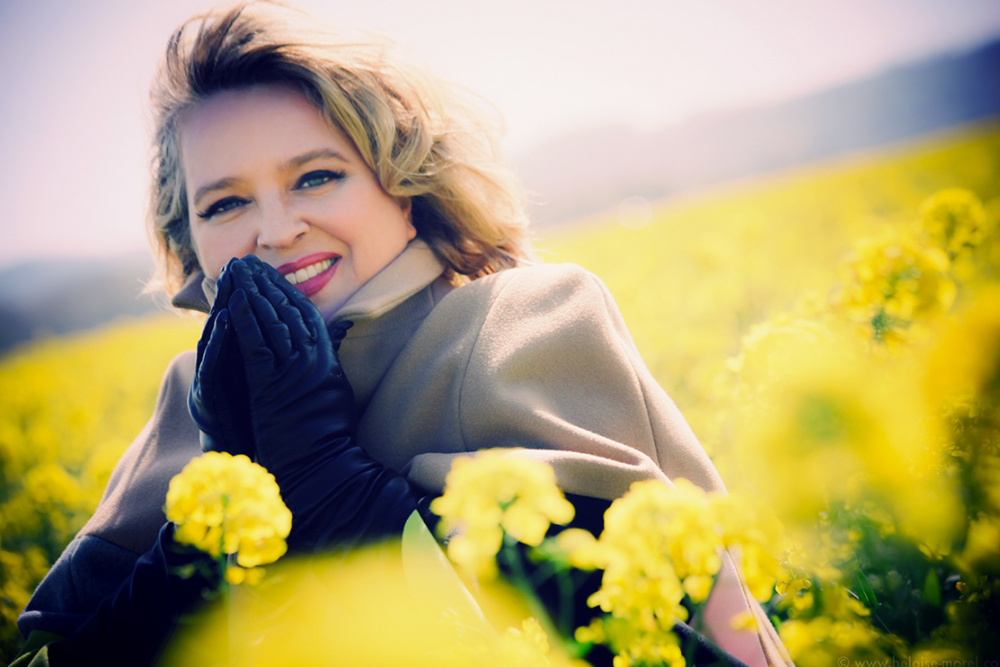 Superstar soprano Karina Gauvin joins conductor Nicolas Ellis and the TSM Festival Orchestra for Mahler's Symphony No. 4, arranged by Klaus Simon for chamber ensemble. 
Nicolas Ellis, conductor
Karina Gauvin, soprano
TSM Festival Orchestra
Dakota Martin, Flute & Piccolo
Sarah Jeffrey, Oboe & English horn
Eric Abramovitz, Clarinet & Bass Clarinet
Darren Hicks, Bassoon
Neil Deland, Horn
Andrew McCandless, Trumpet
Gordon Wolfe, Trombone
David Kent, Percussion
Kris Maddigan, Percussion
Rachael Kerr, Piano
Matti Pullki, Accordion
Aaron Schwebel, Violin
Sheila Jaffé, Violin
Keith Hamm, Viola
Leana Rutt, Cello
Michael Chiarello, Double Bass
Keiko Devaux: Arras* 
Gustav Mahler, arr. Klaus Simon: Symphony No. 4 in G Major
*Azrieli Prize–winning work
This concert is generously supported by the Azrieli Foundation.
Karina Gauvin's appearance is generously supported by the Stratton Trust and Roy & Marjorie Linden.
Programme Notes 
Keiko Devaux (b. 1982) 
Arras  
In Arras (meaning a richly woven tapestry), Devaux distills various elements representing both of her families' musical and sonic environments through her personal compositional processes. The result is what she describes as "a kaleidoscope of influences over generations, cultures, and musical genres within my, and my families', sonic histories." She draws inspiration from a range of material representing the professions of both sides of her family tree (the sound of wind through fields symbolizing agriculture, and that of a mechanical loom apropos of weaving), the natural environments in which they lived (including patterns of animal behaviours, such as those of starlings and fireflies), as well as the musical traditions, both religious (plainsong and Buddhist chant) and vernacular (chanson française and Japanese-American popular music), through which these families expressed their identities. To create Arras, Devaux wove together two different kinds of dialogue into a rich sonic tapestry. The first is "a dialogue among the various strands of my cultural heritage." Here, the composer breaks down and distills elements of these strands to find unexpected commonalities between them, interweaving shared melodic fragments and harmonic identities. The second kind of dialogue is between "influences and nostalgia of my past with my own contemporary voice. This is where the actual re-composition takes place as I reconstruct these fragments in my own way. The principal aspect of my compositional method is to interact with written material through various distortions – stretching, condensing, layering, looping, cutting, transposing, and interpolating the material without losing an emotional connection to it." 
Copyright © 2022 Keiko Devaux 
Gustav Mahler (1860-1911) 
Symphony No. 4 (1899-1900) 
Mahler composed his Fourth Symphony over the summers of 1899 and 1900, while on summer break from his demanding role as the director of the Vienna Court Opera. As was his habit, he composed it in small shacks on lake- and mountainside holiday properties distanced from the traffic and heat of the rapidly growing Austrian capital (though depending on the popularity of his vacation destination, he was still sometimes unable to escape distractions in the form of noise). Thanks to his extremely busy performance schedule as a conductor, not only with the Court Opera but also with the Vienna Philharmonic, he had suffered a nearly three-year-long compositional dry spell; he especially struggled to find the time and energy to write larger works. His Third Symphony had been completed in 1896, the year before he moved to Vienna.  
Owing to its shorter length (under an hour), "classical" sonata-form first movement, and relatively concise thematic treatment, the Fourth Symphony has been described as among the most accessible of Mahler's symphonic works. The surprising popularity of some performances of this piece following World War II contributed to Mahler's early mid-century revival, which would grow in subsequent decades through the efforts of Leonard Bernstein, among others; the Fourth Symphony was not afforded a favourable reception, however, from its earliest German and Austrian audiences and critics, especially compared to Mahler's relatively well-received Second Symphony. The work premiered in Munich on 25 November 1901, performed by the Kaim Orchestra and conducted by Mahler himself. The soprano solo of the final movement was sung by Margarete Michalek.  
The Fourth is the last of Mahler's three "Wunderhorn Symphonies," which incorporated themes from his song settings of the German folk poetry collection titled Des Knaben Wunderhorn ("The Boy's Magic Horn"). Mahler published one twelve-song series of Wunderhorn adaptations in 1899 under the title Humoresken. In the case of the Fourth Symphony, he incorporated a pre-existing song into the fifth movement, "Das himmlische Leben" ("Heavenly Life"), which he had composed in 1892, although he never published it with the others in the 1899 collection. This final movement envisions heaven from the perspective of a child. A feast, saints, and angelic music are vividly described with awe and sincerity. Mahler composed the movement for solo soprano and orchestra, a highly innovative choice; by 1900, voices had only been present in symphonies in choral form, the major precursor being Beethoven's Ninth Symphony.  
The first movement introduces a unique timbre: sleigh bells. Not meant to evoke a winter scene, Mahler described the bells as sounding from a "fool's cap," reminiscent of the Germanic folk hero Till Eulenspiegel, as portrayed in Richard Strauss' tone poem Till Eulenspiegel's Merry Pranks (1894-5). The movement follows sonata form, typical of symphonic first movements, but features a vastly expanded and complex development section. Previews of thematic content to come in the fourth movement are present, audible in the melodic "paradise theme" sung to the text "We savor the heavenly joys."  
The second movement is a dancing scherzo that foregrounds solo violin, which is meant to portray the famous iconographic motif of Death as a fiddle player. Mahler requires the violin to tune up a whole step, generating a somewhat off-kilter, unpolished sound.  
The third movement, an Adagio double theme and variations, constitutes the emotional heart of the symphony. An unexpected coda bursts forth at the end, disrupting the movement's prevailing mood with what feels like an explosion of light. Mahler would use this sort of gesture, labelled by commentators as a "breakthrough" (or "Durchbruch"), in many of his symphonies.  
The fourth and final movement draws together the thematic content of previous movements, including the sleigh bells, with the new addition of the soprano voice. With the now harsher, almost mocking sleigh bells inserted between the poetic stanzas of the child's song, the symphony's collision of innocence and irony reaches its height.   
Altogether, the Fourth Symphony gives voice to an idiosyncratic Mahlerian blend of irony, humour, anguish, and childlike naïveté. In the words of one Mahler biographer Jens Malte Fischer, the work "dreams of a childhood for which we must grieve but which we can no longer trust." 
Copyright © 2022 Sadie Menicanin