Festival Event
: Mainstage Concert
Gryphon Trio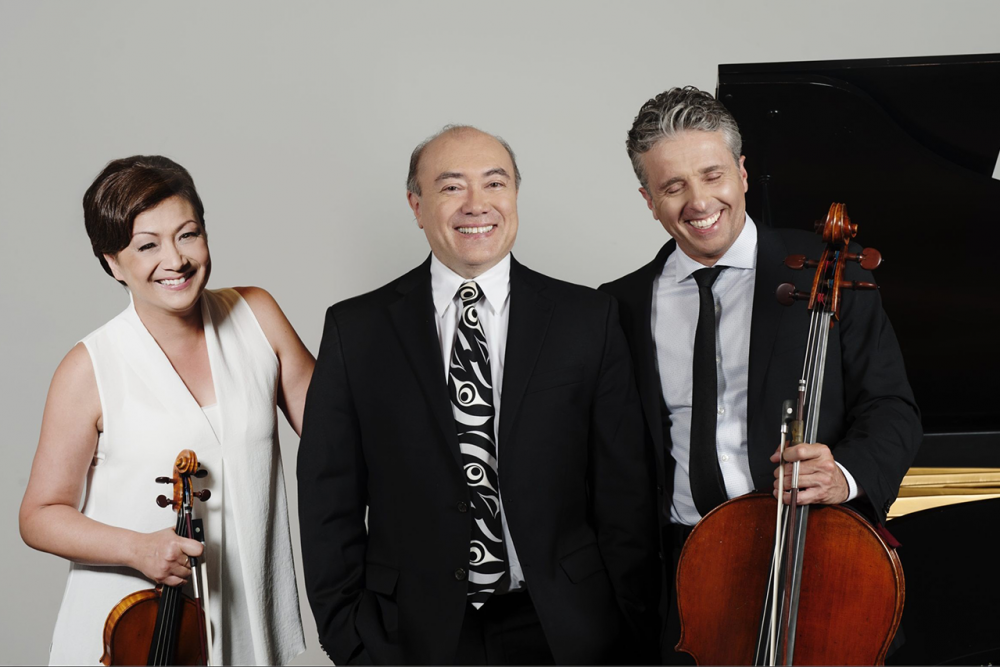 Join the world-renowned Gryphon Trio for a stellar evening of music across centuries and styles. Featuring a world première by Bruce A. Russell.

The Gryphon Trio
Annalee Patipatanakoon, violin
Roman Borys, cello
Jamie Parker, piano

Ludwig van Beethoven: Piano Trio in D Major, Op. 70, No. 1 "Ghost"
I. Allegro vivace e con moto
Valentin Silvestrov: Fugitive Visions of Mozart
Ludwig van Beethoven: Piano Trio in D Major, Op. 70, No. 1 "Ghost"
II. Largo assai ed espressivo
Bruce A. Russell: we have lived before [World Première, commissioned by the Gryphon Trio]
Ludwig van Beethoven: Piano Trio in D Major, Op. 70, No. 1 "Ghost"
III. Presto
This event is generously supported by Jim Fleck. 
A note from Bruce A. Russell:
we have lived before (2021) is dedicated in memory of Breonna Taylor, George Floyd and Regis Korchinski-Paquette, whose deaths in 2020 led to widespread protests against anti-Black racial inequality that summer. As a partial result, there was increased attention to my music and the work of countless other Black artists.
At the time of the commission, Gryphon Trio asked me to consider thematic connections between the piano trio I would compose for them and Beethoven's Ghost Trio, with which it would be paired in concert. Immediately, I thought of how ghosts are relevant to me as a Black descendant of the Atlantic slave trade, and of the ways we as a people are haunted by our history and the violence that continues to be enacted upon us.
The title is from the Earthseed verses in Octavia E. Butler's novel Parable of the Talents (1998), which I find evocative of the depth and resilience of African cultural identity juxtaposed with the trauma of the Middle Passage and what followed it.
I also thought of Beethoven's despair in the period leading up to the Ghost Trio and connected that to my own history with depression. Without having set out to do so, my work emulates the three movement arch structure in Beethoven's music, with a long, slow middle movement and short, relatively fast outer movements. The outer two are reflexive in theme, while the middle one acknowledges our current moment as a society. In the first, the ghosts are ancestral; in the second, they exist in the present; and in the third, become personal.
The first movement, "dyad," is fast and minimalist with diatonic harmony. It relates to the history of two of my ancestors, siblings who were part of the Great Migration in the United States. I imagined how closely they must have stuck together to make it safely to a less brutal place. This is represented by two melodic lines that are parallel and homorhythmic most of the time. The piano right hand focuses on a 3-2 / 2-3 timekeeping pattern and its derivations from West African music. The left hand introduces a three-chord pattern, which is the primary progression here and is later explored extensively in the second movement.
The second movement, "say their names," is a lament consisting of numerous very short segments with an array of diatonic and altered dominant harmonies. Each segment is based on its own unique six-note tonal row woven canonically into a three-chord loop in the middle register of the piano. Segments may correspond to or differ from one another in terms of length, texture and complexity — but the underlying structure is always the same. This alludes to the unceasing media reports of Black victims of police brutality, white supremacy and gun violence, and denotes the collective grief that is an ever- present aspect of Black life.
The third movement, "black mood," is scherzo-like with several contrasting sections, and uses a double harmonic mode. The intervals of the mode allow for several enharmonic modulations using the same set of pitches. This movement transforms the harmonic and rhythmic material of the earlier ones, giving the music a slightly acerbic quality. The title is a term taken from my psychiatric records as an adolescent. The music is not a narrative depiction but an acknowledgement of a long process of emergence, both personal and creative.
For a full listing of all our online events, browse the Virtual Programme Book.