Festival Event
: Mainstage Concert
Echo Chamber Toronto: Poetry in Motion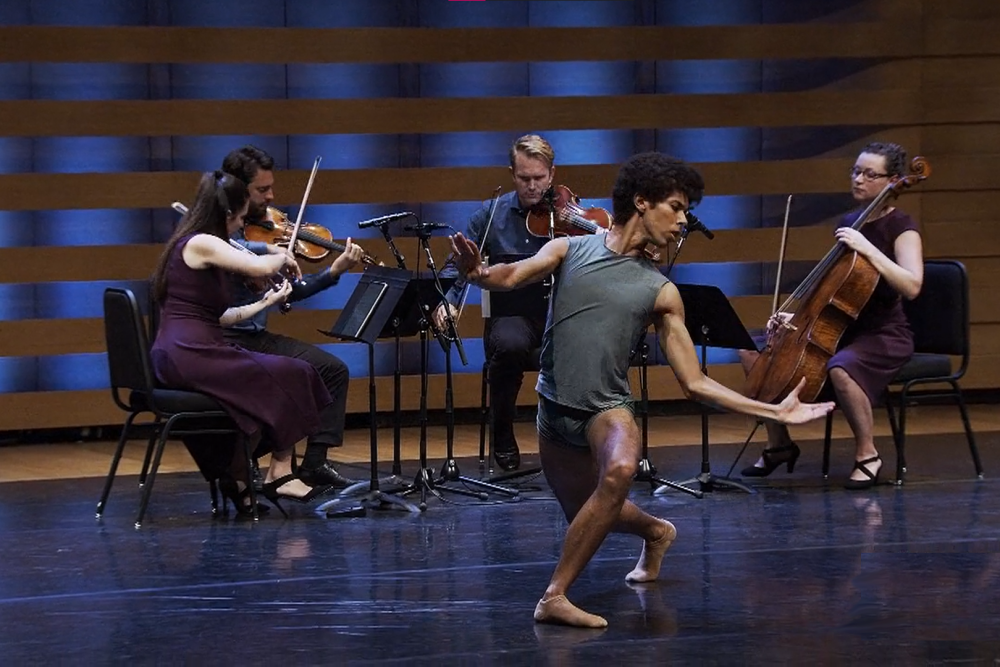 Echo Chamber Toronto is a performance series that intertwines contemporary dance with live chamber music. This concert explores the relationship of music and poetry with a program featuring Vaughan Williams' evocative The Lark Ascending and Schönberg's exquisite masterpiece Verklärte Nacht. The poetry on which these works are based have prevalent elements of movement, lending themselves beautifully to dance.  
Echo Chamber Toronto 
Aaron Schwebel, violin
Sheila Jaffé, violin
Keith Hamm, viola
Rémi Pelletier, viola
Leana Rutt, cello
Julie Hereish, cello
Philip Chiu, piano
Anisa Tejpar, dancer
Jarrett Siddall, dancer
Christian Lavigne, dancer
William Yong, choreographer
Ralph Vaughan Williams: The Lark Ascending 
Claude Debussy: Suite Bergamasque L. 75, III. "Clair de lune"
Gabriel Fauré: Trois mélodies, Op. 7, No. 1, "Après un rêve"
Claude Debussy: Préludes, Premier Livre, L.117, VIII. "La fille aux cheveux de lin" 
Arnold Schönberg: Verklärte Nacht, Op. 4 
Programme Notes 
 Poetry's magic, some might agree, lies in the power of suggestion: in leaving room for what is unsaid to hover around and between the words that are written. Imagery and metaphors, often unexpectedly combined and juxtaposed, are knit together through the reader's personal lens to form a unique interpretive whole. Often a different takeaway emerges with every read and re-read of a poem.  
Music's ineffability—being somehow beyond words—makes it a unique expressive partner to poetry. The art forms share a rhythmic dimension and capacity to gesture to something beyond their own materials and means. Their emotional power often distracts from the careful, practiced techniques that undergird their formal construction. When setting poetry for voices, whether in solo song or choral music, composers are more strictly beholden to the poetic meaning and text structure. When poetry serves as inspiration for instrumental music, however, there is greater freedom for the composer. They might focus on evoking a mood conjured up by the poem, might derive an arc from an implied narrative, or might convey images through selective text painting. In all cases, the poem becomes something new through musical adaptation. 
In today's program, dance contributes an additional meaningful element to the relationship between poetry and music. Movement, too, has been a timeless means of expression for narrative and human emotion. There is something ineffable, untranslatable, in physical gesture that resonates with the ineffability of music: our bodies, each unique arbiters of our own experience, can say much more than words can express. 
Copyright © 2022 Sadie Menicanin 
Ralph Vaughan Williams (1872-1958) 
The Lark Ascending 
The Lark Ascending is among the most beloved pieces in the Western canon written for solo violin. While he originally composed the work in 1914 for violin and piano, Vaughan Williams would revise and complete it in 1920 to feature orchestral accompaniment. It is an idyllic "romance" (the generic label specified by the composer); its freely flowing form could be compared to a subdued fantasia. 
Although the piece is not strictly through-composed, as it includes occasional thematic repetitions, Vaughan Williams generally avoids periodic structures and decisive cadential resolutions, such as from dominant to tonic. Instead, a subtle blend of diatonic and modal melodic content (certainly folk song-like but not derived from a specific pre-existing melody) and favouring of linear, parallel motion instead of vertical chords arranged in "goal-oriented" harmonic progressions lend the piece an expansive spatial and timeless quality. Such features were characteristic of the English pastoral sound, pioneered in large part by Vaughan Williams in the early twentieth century. Vaughan Williams' strategic reductions and even omissions of orchestral accompaniment in The Lark Ascending at several moments, including at the piece's end, set the stage for virtuosic cadenzas and also conjure up a lonesome, melancholic mood. 
A poetry enthusiast, Vaughan Williams admired the works of many English poets of the 19th century and his own day. An 1881 poem by George Meredith titled "The Lark Ascending" furnished the inspiration for the piece. Vaughan Williams excerpted twelve lines from the much longer whole (122 lines), and, writing them for his own reference at the top of an early manuscript, kept them in mind as he composed:   
"He rises and begins to round  
He drops the silver chain of sound  
Of many links without a break  
In chirrup, whistle, slur and shake.  
For singing till his heaven fills,  
'Tis love of earth that he instills, 
And ever winging up and up,  
Our valley is his golden cup  
And he the wine which overflows  
To lift us with him as he goes.  
Till lost on his aerial wings  
In light, and then the fancy sings." 
In her 1964 biography of her husband, Ralph's second wife Ursula specified that he "had made the violin become both the bird's song and its flight, being, rather than illustrating the poem from which the title was taken." The Lark Ascending, then, might be understood best as a musical instantiation of the poem's mood and imagery, rather than being a mimetic depiction of the bird in motion or its call.  
It is impossible to overlook the world-shattering event that took place in the years between Vaughan Williams' original version of the piece and its final orchestral realization: World War I. The bias of hindsight can cause contemporary commentators to inaccurately characterize the years leading up to the Great War as full of foreboding and decay—the metaphor of storm clouds gathering is often used—or to interpret pre-war artworks as anachronistically "nostalgic," as if artists, impossibly, could predict the coming trauma. However, in the case of The Lark Ascending, it is certain that Vaughan Williams' service in the war (not to mention the loss of many friends and colleagues) would have impacted his relationship to the English countryside and his artistic output after his return to England in 1919. Indeed, music historian Michael Kennedy notes that contrary to the disillusioned tone evident in post-war works of the English poet Siegfried Sassoon, for example, the "immediate post-war period yielded some of [Vaughan Williams'] quietest, most meditative music." Kennedy suggests that "his principal desire on his return from France seems to have been to render into musical terms the craving for quietness which is paramount among those who have lived for several years not only close to the noise of battle but also amid the unremittingly communal activities of their fellow-beings." In addition to The Lark Ascending, the pieces Vaughan Williams completed after he returned to composition following the war included the Pastoral Symphony and The Shepherds of the Delectable Mountains. Lark's melancholic mood and its subdued evocation of expanses of fields or clear sky, particularly in the violin solo's unaccompanied moments, take on a new layer of meaning with a World War I veteran's inclination towards quietude in mind. In this way, George Meredith's poem, too, written decades prior, becomes newly invested with a distinctly twentieth-century perspective on peace, home, and landscape.  
The Lark Ascending was dedicated to and premiered by a female violinist, Marie Hall, who had studied with Vaughan Williams' older contemporary Edward Elgar. Hall assisted Vaughan Williams with final revisions of the work in 1920 and premiered the original version for piano and violin that year, as well as the orchestral version in 1921. 
Copyright © 2022 Sadie Menicanin 
Claude Debussy (1862-1918) 
Suite bergamasque, L. 75, III. "Clair de lune" 
 Debussy admired the poet Verlaine, especially the collection Fêtes galantes (1869), an evocation, in title and subject matter, of the genre invented by the eighteenth-century artist Watteau, whose paintings depicted the aristocracy mingling in idyllic settings. Debussy's wistful and enormously popular "Clair de lune", from Suite bergamasque (1890, revised 1905), is named after the first poem in Verlaine's collection, whose concluding stanza begins, "Au calme clair de lune triste et beau" (The still moonlight, sad and beautiful). The opening theme, in gently bouncing thirds, and passages that twinkle up high and gush down low, delicately mirror the text's fluid metre and imagery. The three other movements, more conventional in style and generic in title, and though apparently not inspired by poetry, possess nonetheless charm in abundance: a supple, airy and unpretentious Prélude; a buoyant and richly-textured Menuet; and a lightly bounding Passepied, whose alluringly fluctuating harmonies over repeating rhythmic patterns would surely have appealed to Schubert. The suite's title draws on Verlaine's poem, too ("masques et bergamasques"). A "bergamasque" was a sixteenth-century Italian dance but Verlaine uses the word merely for its sonorous effect. "Masques" means both "masks" and "maskers", and refers in the poem to the actors who sing in the moonlight. 
Copyright © 2019 Robert Rival 
Robert Rival is a composer, music writer & teacher. robertrival.com 
Gabriel Fauré (1845-1924) 
Trois mélodies, Op. 7, No. 1, "Après un rêve" (After a Dream) 
Fauré, the father of the modern French song, or mélodie, published his first collection of 20 songs in 1879. Some 80 more followed. The sorrowful "Après un rêve" (1877), based on a French translation of an anonymous Italian text, is frequently heard in a transcription by Pablo Casals for cello and piano.  
Copyright © 2018 Robert Rival 
Claude Debussy (1862-1918) 
Préludes, Premier Livre, L. 117, VIII. "La fille aux cheveux de lin" (The girl with the flaxen hair) 
Debussy's two books of 12 preludes each (1910, 1913), unified neither by key pattern nor narrative, suit performance in small groups—the composer's preference. Their evocative titles derive from sources as varied as poems and personal possessions. Among the loveliest and best-known is the supple "La fille aux cheveux de lin". 
Copyright © 2018 Robert Rival 
Arnold Schönberg (1874-1951) 
Verklärte Nacht (Transfigured Night), Op. 4 
Arr. by Edward Steuermann (1892-1964) 
"Two people walk through a bare, cold grove;
The moon races along with them, they look into it." 
With this evocative depiction of a moonlit night begins Richard Dehmel's poem, "Verklärte Nacht" (1896), upon which Schönberg based his eponymous one-movement tone poem for string sextet (1899). Though not the first work to combine chamber music and program music (a few predecessors exist, notably Smetana's autobiographical string quartet "From my life" of 1876), due to its enduring popularity, Verklärte Nacht has become the genre's classic exemplar. 
But for any work to enter the popular imagination it must first secure a performance— something initially denied the sextet by the Vienna Composers' Society. Referring to the music's intense chromaticism (apparently surpassing Wagner's), one jury member reportedly scoffed that "it sounded as if someone had smeared the score of Tristan while it was still wet".  Another took issue with the presence of a "forbidden" chord. "Evidently an inverted ninth does not exist," a bitter Schönberg remarked years later, "and so there was no performance, for after all one can't perform something which doesn't exist." Verklärte Nacht was eventually premiered in 1902 and published three years later. It has become one of Schoenberg's most popular works. 
Schönberg grew up in a Viennese home that was not particularly musical. Yet through sheer interest and will he managed to piece together an informal musical training beginning with violin lessons when he was just eight. He studied (and imitated) what scores he could find, including Beethoven string quartets, played chamber music with his friends and listened to military bands perform popular waltzes and excerpts from Wagner operas in the local park. He even picked up some music theory from a high school classmate. After teaching himself how to play the cello, in 1893 he co-founded Polyhymnia, a small amateur orchestra that chose Alexander von Zemlinsky, a talented young graduate from the Vienna Conservatory, as its conductor.  
Schönberg also studied counterpoint and composition with Zemlinsky for one or two years, ending in 1897—his only formal musical training. Zemlinsky not only nurtured Schönberg's passion for Brahms but also encouraged him to study Wagner. The influences of both great masters come into play in Verklärte Nacht. "The thematic construction is based on a Wagnerian 'model and sequence' above a roving harmony on the one hand," Schönberg explained, "and on Brahms' technique of developing variation—as I call it—on the other." 
Composed shortly after Schönberg met Zemlinsky's sister Mathilde (whom he married in 1901), Verklärte Nacht is without any doubt the most significant among Schönberg's early works. The source poem, in five stanzas of unequal length, depicts the romance between a guilt-laden woman and a forgiving man. The first, third, and final stanzas, narrative in voice, describe the man and woman walking together under a moonlit sky. The second and fourth, much longer, are monologues spoken by the woman and man, respectively. She expresses regret at being pregnant with the child of another, whom she does not love; he promises that their mutual love will transfigure the child and make it their own. 
The music of Verklärte Nacht ranges from its dark, yet gentle, opening strains (evocations of forest, moon, nature) to wild and agitated passages (the woman's anguish). Lush scoring, romantic outpouring, and soaring melodies are juxtaposed with dense counterpoint and angst-ridden chromaticism. At times the mood is eerie; at others, ecstatic. The only constant is continual change itself, brought about by frequent tempo changes and the Brahmsian technique of developing variation. Webern marvelled at the "unusual colouristic effects" in the strings (mutes, harmonics, runs, arpeggios, pizzicato, tremolo, bowing on the bridge, extremes in register) that he believed were inspired by the work's programmatic source.  
Webern also conceived the work as a kind of free fantasy. Other commentators, however, have traced the poem's musical, rondo-like form in the music itself, discerning five principal sections. Still others perceive an elaborate sonata form. In the end, the form may be all and none of these at the same time on account of the pervasive developmental process whereby motifs recur in varied form in a complex web of interrelationships. One aspect, however, is clear: the large-scale tonal organization traces an arc from D minor to D major. 
A decidedly tonal work, despite its often extreme chromaticism, Verklärte Nacht typifies the musical language of Schönberg's early works, before he moved on to free atonality and pioneered the 12-tone system on which his fame (or notoriety, depending on whom you ask) principally rests. Schönberg insisted, however, that he never stopped writing in the manner of his youth. "The difference is only that I do it better now than before," he explained. "It is more concentrated, more mature." 
Schönberg arranged Verklärte Nacht for string orchestra in 1917 (revised in 1943). In 1932, the Polish-American pianist and composer Edward Steuermann (1892-1964), a pupil and long-time collaborator of Schönberg's, created an arrangement for piano trio to celebrate the birthday of the Viennese patron Alice Moller. Despite the original's colourful string effects, the work translates well for piano trio because so much of the writing is polyphonic. In fact, the piano brings many contrapuntal passages into sharper relief due to its precision of attack and contrasting timbre. The result is an improved transparency that shines new light into the work's thick texture. 
Copyright © 2010 Robert Rival