Festival Event
: Mainstage Concert
Dover Quartet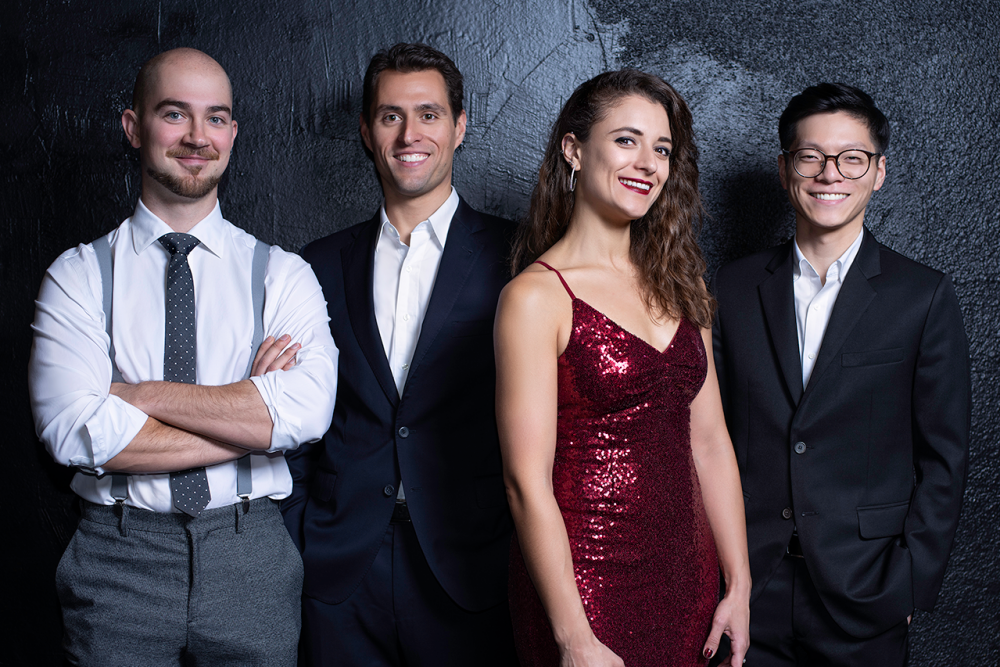 Praised for their "expert musicianship, razor-sharp ensemble, deep musical feeling and palpable commitment to communication" (Chicago Tribune), the Dover Quartet makes a triumphant return to Toronto in the beautiful Koerner Hall.
Dover Quartet 
Joel Link, violin
Bryan Lee, violin
Milena Pajaro-van de Stadt, viola
Camden Shaw, cello
Haydn: Quartet in D Major, Op. 64, No. 5 "Lark"
Mozart: Quartet in C Major, K. 465, "Dissonance"
Intermission
Ravel: Quartet in F Major 
This concert is generously supported by Jack Whiteside.
Programme Notes 
Joseph Haydn (1732-1809) 
Quartet in D Major, Op. 64, No. 5, "Lark" 
Allegro moderato 
Adagio cantabile 
Menuetto: Allegretto 
Finale: Vivace 
Wolfgang Amadeus Mozart (1756-1791) 
Quartet in C Major, K. 465, "Dissonance"   
Adagio-Allegro 
Andante cantabile 
Menuetto: Allegro 
Allegro molto
It is unclear precisely when Joseph Haydn and Wolfgang Amadeus Mozart first met, though it was likely shortly before Christmas 1783, at a concert in Vienna that featured both of their works. In spite of both the almost 25-year age difference between the two composers and their incredibly different career stages, they quickly developed a close personal and professional friendship. Notably, it is possible that their friendship was fostered by Haydn's younger brother Michael, who was a musical colleague and acquaintance of the Mozart family in Salzburg. While Mozart's widespread fame today makes it almost unthinkable, in 1783 he was still an emerging composer on the Viennese music scene, while Haydn (whose music is much less well-known today) was the most famous living composer in Europe. While the two composers were each other's musical and compositional equals, it is clear that Haydn had a mentoring and even something of a fatherly role to the younger composer, who – along with many musicians and composers in Vienna – called him 'Papa' as a term of affection, but also of respect for his musical innovations. Haydn also took care to publicly and privately praise the work of the younger composer, even saying to Leopold Mozart, in a now-famous quote, "I tell you before God, and as an honest man, your son is the greatest composer known to me by person or repute." 
The string quartet was a central aspect of Haydn and Mozart's musical friendship and of their compositional connection to one another. Musicologist Jens Peter Larsen has demonstrated that the two composers played string quartets together – Haydn on violin, Mozart on viola – on several occasions. Furthermore, the string quartet was a genre of music they were both interested in developing and experimenting with in their work as composers. Haydn is often referred to as the 'father' of the string quartet due to his establishing of and expansion beyond standard practices and parameters in their composition, and also because he was the first composer to write them in such volume. However, both Haydn and Mozart broke the 'rules' Haydn established, innovating with the form, structure, and musical language of the genre. From 1782-1785, Mozart composed and eventually dedicated a series of six quartets to Haydn, known as the 'Haydn' quartets, and based on Haydn's op. 33, a series of string quartets composed in 1781 (the "Dissonance" quartet is the most famous of Mozart's 'Haydn' quartets). In a time when dedications were typically reserved for members of the aristocracy, Mozart's choice of dedicatee was a significant honour and gesture of friendship. 
It is fitting that tonight's concert puts the "Dissonance" and "Lark" quartets into dialogue, as it allows us to hear the influence and mutual regard Haydn and Mozart held for one another: the "Dissonance" quartet, composed in the early 1780s, is characterized by Haydn's influence on Mozart. Yet the "Lark" quartet, composed in 1790, undoubtedly holds the influence of Mozart's own innovations to the string quartet. And still beyond the dialogue of compositional influence, the sense of conversation these pieces invoke reflects the history of the string quartet itself. Writing in 1829, German writer and critic Johann Wolfgang von Goethe once compared the string quartet to the sound of "four intelligent people conversing among themselves." Goethe wrote specifically of Beethoven's quartets, yet the idea of the string quartet as being a musical metaphor for artful, intelligent, and refined conversation characterized compositional and public thinking about the string quartet throughout the eighteenth and nineteenth centuries. Given their friendship and mutual admiration, Haydn's and Mozart's quartets allow us to 'hear' them in conversation about musical form, structure, and aesthetics. It is also tempting to imagine, in the beauty and insight of the music, something of the intelligence, humour, and depth their actual conversations might have possessed.   
Copyright © 2006 Rena Roussin 
Maurice Ravel (1875-1937)
String Quartet in F major 
Allegro moderato – très doux 
Assez vif – très rythmé  
Très lent 
Vif et agité  
Legend has it that Debussy, upon hearing the 1904 première of the young Ravel's string quartet, exclaimed: "In the name of God, I implore you not to change a note of your quartet!" If Debussy did indeed say this, Ravel chose not to listen: he published a revised version in 1910. Despite its dedication to "my dear master", Gabriel Fauré, the quartet owes a great debt to Debussy's quartet from a decade earlier (which may explain why Debussy may have liked it so much)! Both are cyclic in structure, use pizzicato in the second movement (although to different ends), eschew traditional tonality in favour of a less functional approach to harmony, and explore the ebb and flow of frequent tempo changes. Similarities aside, the two works diverge in mood and expression, with Ravel's razor-sharp, neo-classical style already apparent in this early chamber work. 
For a quartet purportedly in F major, there is surprisingly little C major music throughout the piece (C is the dominant, traditionally the key-defining relationship). Instead, the mediant, A, substitutes as the contrasting harmonic pole, linking the tonic F to D minor and A minor. In fact, each movement begins with an A. The first movement, an Allegro moderato, features many accelerandos and ritardandos that keep the tempo in constant flux. The frequent tremolos and oscillating accompaniment likewise contribute to the music's fluid and organic feel. The second movement, Assez vif – très rythmé (quite lively – very rhythmically), is a scherzo in all but name. The guitar-like strumming, suggested by the inventive use of pizzicato in cross-rhythms, is one of the most exhilarating moments in the entire string quartet literature. Ravel contrasts the exuberance of the outer sections with a muted slow middle section marked Lent (slowly) that gradually transitions back to the opening tempo by inserting teasing melodic fragments, including bits of pizzicato. The slow muted movement that follows, marked Très lent, also features many subtle tempo changes. The viola dominates the outer sections with an expressive melody derived from material in the first movement. The finale, Vif et agité (lively and agitated), delivers a breathtaking flurry of activity by juxtaposing an irregular 5/8 (5/4) metre with 3/4. But the return of the first movement's themes, though fragmented, injects a calming antidote to the frenetic energy. 
Copyright © 2006 Robert Rival 
Robert Rival is a composer, music writer & teacher. robertrival.com