Festival Event
: Mainstage Concert
Brahms' Muse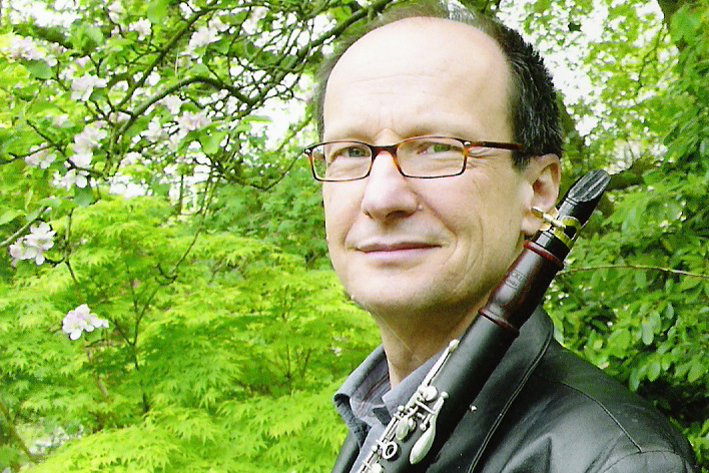 Just months after deciding that he wasn't going to be composing any more music, an encounter with clarinetist Richard Mühlfeld rekindled Brahms' creative muse. All the wisdom garnered during a long, glorious career of composing radiates from these two late Brahms quintet masterworks.
James Campbell, clarinet
Ariana Kim, violin
Jennifer Koh, violin
Rémi Pelletier, viola
Jennifer Stumm, viola
Sæunn Thorsteinsdóttir, cello
 
Johannes Brahms: String Quintet in G Major, Op.111
Johannes Brahms: Clarinet Quintet in B minor, Op.115 
Programme Notes 
Tonight's concert demonstrates the influence that Richard Mühlfeld (1856-1907) had on the music of Johannes Brahms. Mühlfeld, while little-known today, was a famed German clarinettist in his time, and one who played with such skill and musicality that he inspired Brahms to continue writing for the clarinet, in spite of the composer's planned retirement in the 1890s. The end result was the Clarinet Trio in A minor (Op. 114), Clarinet Quintet in B minor (Op. 115), and Clarinet Sonatas (Op. 120, No. 1-2), all of which Brahms wrote to demonstrate Mühlfeld's skills as a performer. Indeed, though Brahms had included the clarinet in orchestral pieces throughout his career, he noted that the clarinet did not have an abundance of solo or showcase compositions, so he attempted through these compositional works to increase the options available to clarinettists. Ultimately, Brahms' pieces and Mühlfeld's playing expanded the musical role of the clarinet. Or, as George Toenes once observed for The Clarinet periodical: "After Mühlfeld, the clarinet was looked upon not merely as an indispensable member of the orchestra but as an instrument capable of the highest range of expression in solo and chamber music." 
Copyright © 2022 Rena Roussin 
Johannes Brahms (1833-1897) 
String Quintet No. 2 in G major, Op. 111 
Allegro non troppo, ma con brio 
Adagio 
Un poco Allegretto 
Vivace ma non troppo presto 
After completing his Second String Quintet (1890), Brahms, then 57, declared that he was done with composing, eager to bow out on his own terms. "With this scrap bid farewell to notes of mine," he wrote to his publisher, "because it really is time to stop." The following year he met the clarinettist Richard Mühlfeld, whose enchanting playing impelled the "retired" composer to write four further chamber works, all featuring clarinet.  
Brahms relished thick textures, both in his keyboard writing and in music for strings. He had earlier explored such opulence in two stunning string sextets. Yet the opening of the second quintet (both are scored for two violas), his last chamber work for strings alone, sounds especially orchestral, and may have originated as a sketch for an abandoned fifth symphony. An athletic cello solo with trembling accompaniment produces an irresistible exuberance, tempered only by a rocking secondary theme.   
The Adagio, a slow march, moves in the other direction, from haunting simplicity to impassioned density. Its arresting and ambivalent theme, introduced by the viola, can be heard, curiously, in either D minor or A major, and suggests a Hungarian Gypsy style of playing in which a tune is freely and flexibly ornamented. Gentle syncopations and melancholic melodies lend the third movement, an intermezzo, an unresolved restlessness. Meanwhile, deft counterpoint, throbbing rhythms, and dramatic outbursts combine in a buoyant finale that ultimately overcomes the brooding thoughts inhabiting its interior. "He who can invent all this must be in a happy frame of mind!" his friend Elisabet von Herzogenberg astutely observed. "It is the work of a man of thirty." 
Copyright © 2017 Robert Rival 
Robert Rival is a composer, music writer & teacher. robertrival.com 
Johannes Brahms (1833-1897) 
Clarinet Quintet in B minor, Op. 115 
Allegro 
Adagio 
Andantino—Presto non assai, ma con sentimento 
Con moto 
In 1891, one year after Brahms resolved to give up composing for good, he met the clarinettist Richard Mühlfeld. The virtuoso's performances of works for clarinet by Carl Maria von Weber and Mozart so enchanted Brahms that he was impelled to write two chamber works with clarinet that very summer: the Trio in A minor, Op. 114, and the Quintet, Op. 115. Mozart, too, had been inspired to write for the clarinet after meeting a virtuoso of his day, Anton Stadler; in 1789, he inaugurated a new genre with his Clarinet Quintet, K. 581. 
In the first half of the 19th-century, lesser-known composers enlarged the genre's repertoire, but in the second half, wind instruments in chamber music became less popular, perhaps on account of the tendency of many lesser composers of the day to treat them in a needlessly showy concertante style. In 1870, the influential critic Eduard Hanslick captured the prevailing mood when he contemptuously told a clarinet virtuoso to "join an orchestra—that is the place where we know the value of clarinettists, flautists, oboists, and bassoonists; the times are past when crowds of these wandering musicians came to give recitals on their boring little pipes". 
Brahms's decision, then, to take up from where Mozart had left off a hundred years before, necessarily raised some eyebrows, including those of his colleague, the violinist Joseph Joachim, whose celebrated quartet had a longstanding tradition of only performing music for strings. But Brahms managed to twist his friend's arm. In a letter to Hanslick of December 1891, he gloated that "Joachim has sacrificed the virginity of his Quartet for my newest things. Hitherto, he has carefully protected the chaste sanctuary but now, in spite of all my protestations, he insists that I invade it with clarinet and piano, with trio and quintet". Indeed, later that month in Berlin, Mühlfeld joined Joachim's quartet to give the premiere of Brahm's Clarinet Quintet. The critics were unanimous in their praise. Even the purist Joachim was won over and later admitted that the quintet was one of the best works Brahms had ever written. 
Ever since its premiere, critics have variously described the quintet's mood as "autumnal" and "nostalgic", its mood "subdued". Such assessments derive no doubt from certain striking features of the work as a whole: all four movements end softly; its principal themes fall from on high. Even more important is the oscillation—and frequent blurring—of key, especially between B minor and its relative, D major, creating a pervasive modal ambiguity. 
Such tonal ambivalence plays itself out from the Allegro's very opening: the initial figure in the violins suggests D major yet the tonality quickly drifts into B minor. The clarinet blends beautifully with the strings: at times buried in the texture, wedding the strings together with its thick tone; at others, rising up from its depths to soar above its companions. Throughout, organic lines in both the clarinet and strings weave fluidly around one another. The desolate ending recalls the movement's beginning. 
The strings are muted in the B major Adagio. The clarinet introduces a sighing motif that floats delicately above the layered undulations in the strings below, gentle lapping of waves on a quiet lake. But with a turn to B minor, the clarinet recollects fragments of a theme from the first movement, and in a succession of increasingly turbulent cadenza-like flourishes, brings the movement to a wailing climax. The B major tune then returns and the movement ends peacefully. 
The third movement is an unusual take on the expected scherzo. The initial Andantino seems to function as a slow introduction to the dancing and chattering sonata-form Presto non assai, ma con sentimento that follows, but the allusion to the Andantino at the close hints at a truncated tripartite form. If one hears it that way, then the traditional scherzo scheme becomes oddly inverted: trio-scherzo-(trio).  
The finale, marked Con moto, is a theme with five variations that retain the theme's binary form. In successive variations, members of the ensemble obtain prominent roles: the cello in the first; the violin and clarinet in the third; and the viola in the fifth. The movement closes with a sudden review of the work's opening themes. It is as if the quintet's persona comes to the realization that no matter what lovely thoughts cross its mind, what beautiful places it visits, or what good company it shares, it simply cannot shake a deep, lingering sadness. The work's tragedy is thus not of the cathartic sort, but a more commonplace one in which a world-weary self, experienced and wise, accepts reality for what it is. The quintet may be about many things, and to each listener something different. For some, what may ring true is a story of persistent memory and the inability to contemplate the world through a veil of happy illusion. 
Copyright © 2009 Robert Rival