Festival Event
: Mainstage Concert
A Literary Affair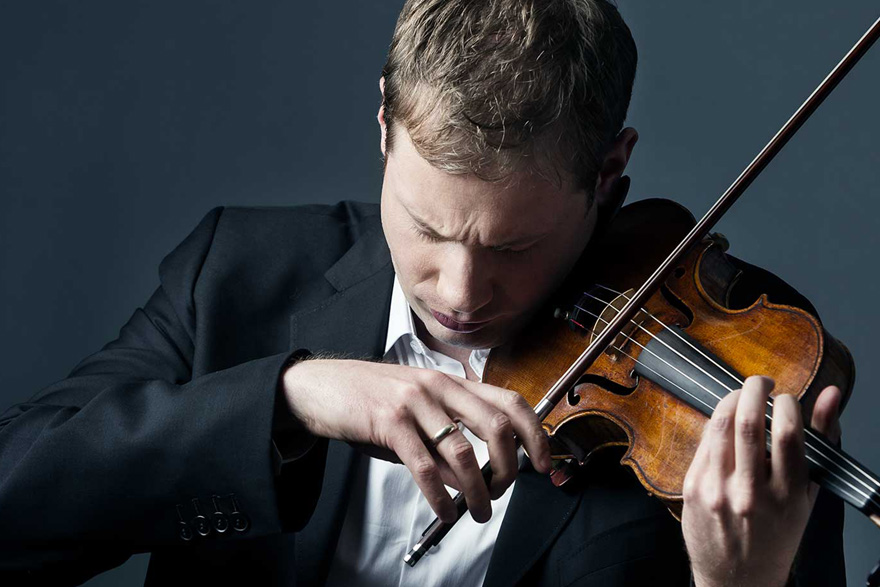 Storytelling comes to the forefront in a concert of works inspired by literature, including Goethe's Faust and the plays of William Shakespeare. Anishinaabe composer Barbara Assiginaak contributes stunning solo piano music inspired by the traditional stories of her childhood, and Franz Hassenöhrl takes a chamber music approach to Strauss' famous Till Eulenspiegel tone poem.
Scott St. John, violin
Jonathan Crow, violin
Andrew Wan, violin
Barry Shiffman, violin
Rémi Pelletier, viola
Sharon Wei, viola
Rachel Mercer, cello
Emmanuelle Beaulieu Bergeron, cello
Miles Jaques, clarinet
Michael Chiarello, bass
Neil Deland, horn
Darren Hicks, bassoon
Philip Chiu, piano
Erich Wolfgang Korngold: Incidental music from Shakespeare's Much Ado About Nothing, Op. 11
Barbara Assiginaak: Mnidoonskaa [An Abundance of Insects]
    I. Ntam Ginjigan [Book One]
    II. Eko-niizhing Ginjigan [Book Two]
Richard Strauss, arr. Franz Hasenöhrl: Till Eulenspiegel Einmal Anders! 
Felix Mendelssohn: String Octet in E-flat Major, Op. 20
Programme Notes 
The best stories invite reinterpretation, revisitation, and reimagination. We return to them again and again in artistic formats as diverse as films, musicals, and ballet, curious to see new creative perspectives shed a different light on old tales. Classic works of literature including novels, plays, or even myths and fairy-tales have long acted as sparks of inspiration for musical adaptation, whether or not a composer makes such inspiration clear in their title. If the goal is to transparently adapt a story, though, the music must express something of the narrative and take the listener on a journey together with a story's characters. Conflict, climax, denouement: composers can convey the emotional dimensions of a plot's key elements by generating mood and wordlessly shaping atmospheres of tension and resolution.   
Copyright © 2022 Sadie Menicanin 
Erich Wolfgang Korngold (1897-1957)  
Incidental music from Shakespeare's Much Ado About Nothing, Op. 11 (1918-1919)  
Erich Wolfgang Korngold, a child prodigy after the likes of Mozart and Mendelssohn, grew up in the rich musical-theatrical atmosphere of early twentieth-century Vienna. His father, Julius, was the influential and feared music critic for Vienna's liberal daily newspaper, the Neue freie Presse, at a time when reviews of the latest operas and plays were so important as to appear on the front page. Born in the same year that Johannes Brahms, pillar of the Viennese musical establishment, died, Erich Korngold spent his youth and the early part of his career composing instrumental music and opera in Vienna. He emigrated to Hollywood in the 1930s, along with many other Viennese Jewish composers and artists who were fortunate enough to escape the National Socialists in time. Together with Max Steiner, another Viennese émigré, Korngold went on to shape the sound of Hollywood cinema, which in many ways repurposed his operatic musical language for the silver screen.  
Korngold's love for composing for the stage—or, maybe more accurately, composing for dramatic narrative whether staged or not—is evident across his oeuvre. Prior to his work in Hollywood, he composed multiple operas, re-orchestrated operettas, and collaborated with innovative Austrian-born producer and theatre director Max Reinhardt (1873-1943). Reinhardt was a major force in the progressive Berlin theatre scene, which flourished particularly after World War I, during which time the arts in the capital of the new Austrian Republic struggled to find economic and ideological footing. While he was based mostly in Germany in the post-war years, professional engagements took Reinhardt frequently back to Vienna and elsewhere. Korngold's eventual escape to the United States in 1934 was instigated by Reinhardt's invitation to Hollywood to collaborate on his film adaptation of Shakespeare's A Midsummer Night's Dream (1935), for which Korngold adapted the incidental music by Felix Mendelssohn.   
While Korngold and Reinhardt met in Munich in 1910, their first professional collaboration did not take place until 1918, when the director asked the then-twenty-one-year-old Korngold to write incidental music for Much Ado About Nothing. Reinhardt was preparing the Shakespeare play—in German Viel Lämen um Nichts—for performance at the Vienna Volksbühne, but the intended production finally opened at the Schönbrunn Palace Theatre on 6 May, 1920. Korngold himself conducted members of the Vienna Philharmonic in the early run of performances of the original production.    
Prior to the 1920 premiere of Reinhardt's play, Korngold adapted his already-completed incidental music into a five-movement orchestral concert suite which premiered separately: 1) Overture; 2) Maiden in the Bridal Chamber; 3) March of the Watch (Dogberry and Verges); 4) Garden Scene (Intermezzo); 5) Hornpipe. He adapted it a second time into a four-movement version, omitting the overture, for violin and piano.  
Shakespeare's enduring comedy of love and friendship receives an appropriately whimsical and sentimental treatment from Korngold, a master of melody and orchestration. As you listen, consider how Korngold's colourful use of instruments (especially percussion and piano) and layering of lush themes over jaunty rhythmic propulsions help generate atmosphere and humour. 
Copyright © 2022 Sadie Menicanin 
Barbara Assiginaak 
Mnidoonskaa (An Abundance of Insects)  
Ntam Ginjigan [Book One]  
 I: Maangodikomak (Water Striders) – When the ponds of water within the swamp are calm and reflect the light, we see those water-surface striders with their fine long legs straddled and magically able to rest and sometimes glide about on the unbroken smooth surface. Often, they are calm and still, and then shift their movements occasionally to remain afloat, especially when a faint breeze comes in. Glints of light sing all around them, their voices heard descending downward through the water into the abyss.  
III: Bebskiigsenyik (Mosquito Larvae) – Awakening and wriggling with life and anticipation, these very tiny mnidoonsak are dancing around in the shallow ponds. They all know that their time living in the water is short and soon they will grow long legs and wings to fly about in the air as they sing to one another. For now, they get to enjoy their time together to swim and dance about. I remember seeing them at a very young age while out to view the tadpoles hatching after the omagakiig eggs (frog eggs) began appearing.   
IV: Mshkiigikiing Zgimekaa (In the Swamp There are Lots of Mosquitoes) – Growing up near a dense swamp, I remember as a child seeing the swarming clouds of many mosquitoes while I was trudging through the middle of swamp looking for medicine plants with my aunty. Most of our best healing medicines grow in the swamps and my aunty always reminded me that those mosquitoes had an important role: to protect the medicines and to slow down humans in their efforts to find and pick them—to remind us of our humility and need to respect every non-human being dwelling in the swamp.   
V: Bezhik aw Zgimenh N'gamo (One Certain Mosquito Sings) – Many times I have been alone in a tent during fasting ceremonies. We fast alone in the woods for about 4-6 days without food and water, completely isolated in order to do that healing work. Always at night, there is that one single singing mosquito who finds her way inside the tent. Any person who has camped on the land (not necessarily for fasting) knows about that 'one mosquito' that kept them awake at night, singing in their ear.  
Eko-Niizhing Ginjigan [Book Two] 
I: Mzizaakok Miiniwaa Mzizaakoonsak (Horse Flies and Deer Flies) – These two types of flies are among those blood-seeking warriors who remind us humans how insignificant and vulnerable we really are. Also working to slow us down, they challenge us while we are sun dancing and trying to focus on our work in that kind of ceremony. Hunters and trappers alike know how invincible these flies are, posing a constant distraction—especially those which fly fast in constant circles around our heads before diving in for a bite. The flies will also compete and chase each other.   
The narrative of this piano piece is how makwa (bear) is hounded by the horse flies and deer flies while going about looking for berries and fish to eat. At first it begins with just a single horsefly following along, then joined by another … until eventually more and more flies are summoned. Some land on bear's head, crawling around through the fur and then the deer flies swoop in, to circle around. What ensues is a battle like none other, and makwa determinedly swats back at them. The silence of the flies signals the death of their one single leader-fly by the final double-swoop of makwa's paws. The ensuing song of the water nymphs acknowledges this fallen warrior-fly in memory. Even makwa is saddened and humbled to hear this song.  
Copyright © 2022 Barbara Assiginaak 
 Richard Strauss (1864-1949)  
Till Eulenspiegels lustige Streiche (Till Eulenspiegel's Merry Pranks), Op. 28   
(arr. for violin, clarinet, horn, bassoon and double bass by Franz Hasenöhrl ) 
  Strauss's popular tone poem Till Eulenspiegels lustige Streiche (1895), with all its stops and starts, virile rhythms and surprising turns, surely ranks as the best cartoon music ever written. "Once upon a time there was a knavish fool named Till Eulenspiegel," wrote Strauss. "He was a wicked goblin up to new tricks." Based on a medieval folk legend about a prankster who challenges social norms, the music astonishes with its striking combination of audacious orchestration and satire. Austrian composer Hasenöhrl's abridged chamber arrangement (1954)   sports a new subtitle, einmal anders! (different this time!), but retains the essential, notably Till's striding horn theme, brilliantly conveying with limited means, the buoyant spirit of classical music's greatest joker.    
Copyright © 2019 Robert Rival  
Robert Rival is a composer, music writer & teacher. robertrival.com  
Felix Mendelssohn (1809-1847)  
String Octet in E-flat Major, Op. 20  
Allegro moderato ma con fuoco  
Andante  
Scherzo: Allegro leggierissimo  
Presto  
Schumann considered Mendelssohn "the Mozart of the nineteenth century, the most brilliant musician, the one who most clearly sees through the contradictions of the age and for the first time reconciles them". The fact that Mendelssohn was a musical prodigy, the equal of Mozart, made the comparison natural. On his twelfth birthday, his first Singspiel was staged with orchestra. Six weeks later, he wrote another for his mother's birthday (which she thought was an improvement). Mendelssohn's progress was so rapid that his first masterwork, the Octet, composed when he was just sixteen, even surpassed the achievements of Mozart at that age, whose first mature works did not come until he was nineteen (the violin concertos of 1775). Mendelssohn's mastery of craft in the Octet is unquestionable, from the breathtaking command of counterpoint to the fluency in the handling of extended forms. Most remarkable, perhaps, is that all movements are cast in some sort of sonata form, each tailored perfectly to its material.  
The Allegro moderato ma con fuoco launches straight off into the first theme, and it is immediately apparent that we are listening to a musical octopus, a living organism whose parts move independently but are carefully coordinated. Over the pulsating tremolos, the first violin unveils a melody of enormous sweep, whose arpeggios rise ever higher, culminating, almost concerto-like, with the very high E-flat at the end of the exposition. The intricate counterpoint is made that much more transparent by the wide range of note-values used, from the very short to the very long. The fiery development retreats into a mournful passage that in turn dissolves into almost nothing. Then, a gradual return of faster note-values leads exhilaratingly to the abbreviated recapitulation. A more perfect retransition is unimaginable.    
The tonal ambiguity of the Andante's opening leads to a second theme whose gorgeous suspensions lend it a shimmering radiance. A movement of harmonic wonders, it explores the tension between C minor and C major and leaves an overall impression of calm stillness over which shadows occasionally pass.   
The Scherzo, marked Allegro leggierissimo, and played pianissimo and staccato from beginning to end, is rapid and fleeting. "Eight string players might easily practice it for a lifetime without coming to an end of their delight in producing its marvels of tone colour," wrote Donald Tovey. The movement ends as nimbly as it begins.  
The fugal Presto finale opens with the second cello chugging away on the first of four distinct themes that make up the first theme group, the second of which, in longer note-values, is a quotation of Handel's Messiah ("And He shall reign forever and ever"), from the Hallelujah Chorus. The ingenious counterpoint is often compared to the finale of Mozart's Jupiter Symphony; but Mendelssohn simply dazzles by incorporating a cyclic return: near the end of the development, he reintroduces the opening theme of the Scherzo.   
Sometime in the eight years after its composition, Mendelssohn revised the Octet. The revisions affected not only the part-writing but also major issues of formal structure. In particular, Mendelssohn adjusted proportions by cutting away large blocks of the original to create greater flexibility in the sonata-form designs, an effect that contributes to the work's organic feel. But this rewriting in no way diminishes Mendelssohn's youthful accomplishment. It is a work that any mature master would gladly call his own; besides, Mendelssohn was no older than twenty-four when he made the revisions.  
Copyright © 2009 Robert Rival