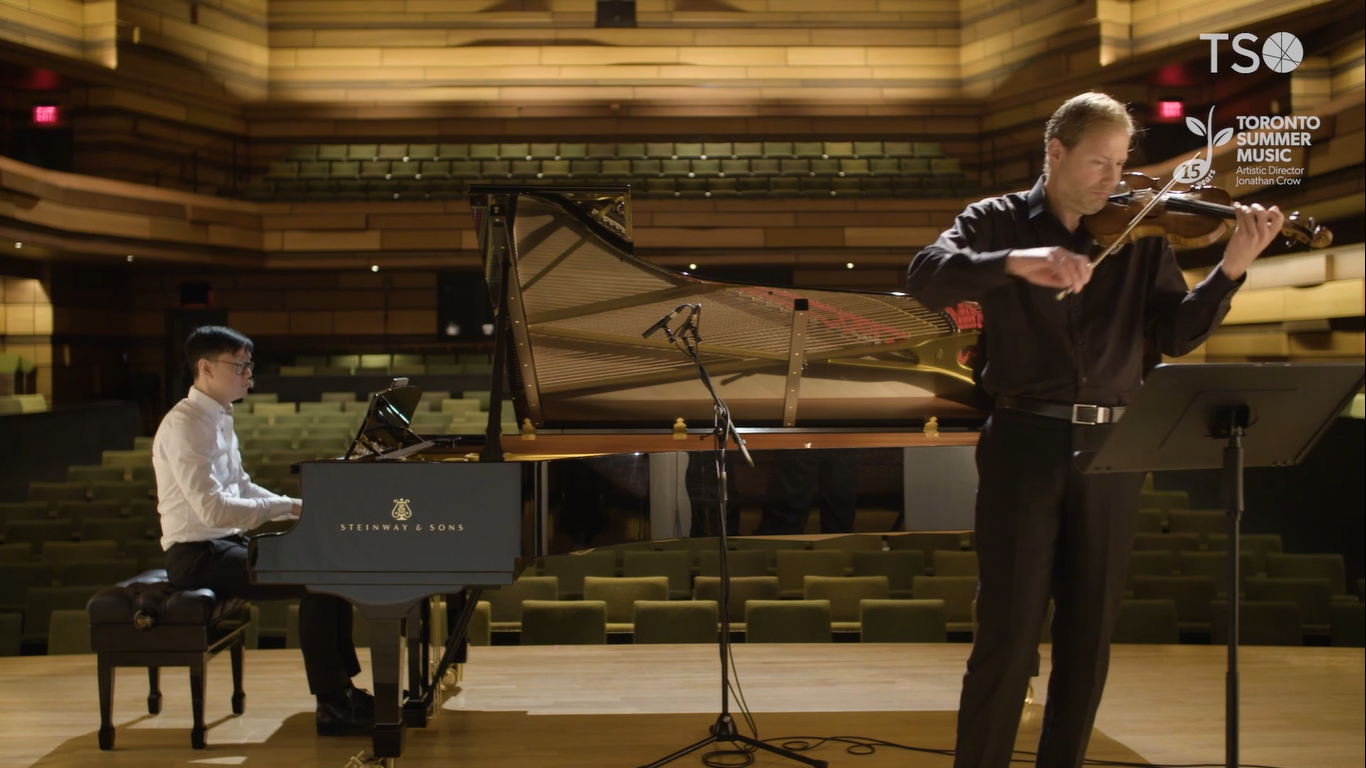 Donations can be made online or by phone.
To make a donation of stocks and securities, to become a monthly donor, or for information please contact:
We are seeking host families who are interested in providing accommodation for our Academy Fellows. Host families are asked to provide a private room, as well as a light breakfast. Transportation to all rehearsals and performances are the responsibility of the Fellow, lunches will be provided by TSM, and we ask the Fellows to provide their own dinner. As a thank you for hosting, you will receive complimentary tickets to all concerts in which your Fellow is performing.
If you are interested in hosting next summer or would like more information, please contact Jennifer Mak at Jennifer@torontosummermusic.com, or by phoning 647-430-5699 ext 111.
Ciao and Guten Abend, Toronto Summer Music fans! We are part of the Aeroplan Beyond Miles Donation program where your donated Aeroplan Miles will help us provide flights to Toronto for the Festival artists this summer. Donating Aeroplan Miles is easier than ever with the Aeroplan Beyond Miles online donation program! Simply click on the link below, log into your account, and make your donation today. Donations can be made all year round. Once you have made your donation please notify us to ensure you receive recognition and additional benefits for your generous donation.
| | |
| --- | --- |
| 1,000 miles+ | You will be acknowledged as a supporter of TSM in our concert programs |
| 5,000 miles+ | You will receive two tickets to a Festival concert of your choice (exception: Opening Night and Special Events) |
| 10,000 miles+ | You will receive two tickets to two Festival concerts of your choice (exception: Opening Night and Special Events) |
| 25,000 miles+ | You will receive four tickets to the Festival Opening Night Concert |
PLEASE NOTE: Aeroplan does not notify us when we receive a donation of miles and due to their membership confidentiality agreement they cannot give us the names of members who choose to donate to Toronto Summer Music. Please contact Elisha Denburg, Development Manager at 647-430-5699 x.114 or edenburg@torontosummermusic.com so we can thank you.
By making a donation of securities, you are investing in the future of music in Canada!
Through a gift of stock, you will receive the benefit of a tax receipt for the fair market value of the stock, and will not be subject to the capital gains tax for your donation.
Please contact Elisha Denburg at edenburg@torontosummermusic.com for more information on making your donation of securities.
By making a planned gift to the Toronto Summer Music Foundation you are supporting the development of emerging stars in chamber music and art song (the TSM Academy) and supporting a cultural gem in the heart of the city that benefits a diverse audience of tourists and Torontonians (the TSM Festival). You are ensuring that both the Festival and Academy continue to operate on solid financial footing and continue to benefit all of its stakeholders. The TSM Foundation provides critical support to the Academy, helping to launch the careers of talented and deserving young artists from all over the world. Legacy gifts will help the Foundation to sustain and expand Toronto Summer Music's activities, which provide enjoyment and enrichment for its members, its artists, and the general public.
For more information about making a bequest, please contact:
Elisha Denburg
Development Manager
647-430-5699 ext. 114
e: edenburg@torontosummermusic.com
Your commitment to Toronto Summer Music allows us to provide exceptional classical music programming for the public. Your support also helps us provide an incomparable coaching and performance environment for a select group of talented young artists. As a corporate sponsor, you have the opportunity to reach out to Toronto-based audiences, internationally-renown artists, and emerging stars, all within the context of a summer celebration of music. At TSM we believe in mutually beneficial partnerships; customized benefit packages may include logo placement, complimentary tickets, and access to concerts and artists. TSM works with each corporation to extend sponsorship reach and to develop creative strategies appropriate to their specific interest and marketing goals.
Toronto Summer Music is a registered charitable organization. Revenue Canada Charitable Registration #: 88415 7900 RR0001.